'Our focus on separation is to unlock the full potential of our unparalleled copper growth business'
Get the latest from Naimul Karim straight to your inbox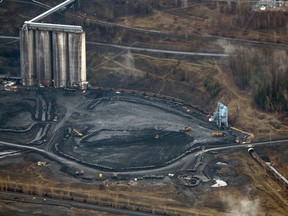 Article content
Teck Resources Ltd. is evaluating multiple expressions of interest in its steelmaking coal business, more than a month after it decided to pull a proposal to divide the company into separate coal and copper operations.
Article content
"Our high-margin, long-life steelmaking coal assets … has, in turn, generated considerable interest from various parties," Teck's chief executive Jonathan Price said in a press release on June 6. "Our focus on separation is to unlock the full potential of our unparalleled copper growth business."
Teck was scheduled to hold a shareholder vote on its separation proposal on April 26, but cancelled it hours before it was set to take place because the company didn't expect two-thirds of shareholders, the necessary threshold, to agree even though it expected a majority to vote for the separation. Speculation regarding Teck's next steps has abounded ever since.
Canadian entrepreneur Pierre Lassonde told The Globe and Mail last week that Teck is looking to partially sell its coal assets. The co-founder of Franco-Nevada Corp., a gold royalty company, earlier this year said he was planning to buy a stake in Teck's coal business.
Article content
Price, however, dismissed those claims.
"With all due respect, Mr. Lassonde does not speak for Teck and does not have an informed view of our intentions for Teck's steelmaking coal business," he said in a statement. "Whatever course of action our management and board choose to pursue will be guided by what's in the best interest of shareholders and stakeholders."
In February, Teck said it wanted to split and create Teck Metals, a standalone company that would focus on copper and other minerals considered key for the energy transition away from fossil fuels and required for the world to meet its climate goals, and Elk Valley Resources Ltd., which would focus on coal.
The company said the move was designed to unlock more value for shareholders by creating a company for investors who want a clean break from fossil fuels.
Article content
But Teck Metals would have depended on cash flow from the coal unit for at least three years following the separation, keeping the coal and metals business intertwined and seemingly going against the proposal's main selling point to investors. As it stands, Teck depends on steelmaking coal for about 60 per cent of its revenue, though it has been trying to rebalance its portfolio to produce more metals.
A month after Teck's announcement, Swiss mining giant Glencore PLC said it wanted to take over Canada's largest diversified miner and undergo its own separation. Glencore, which posted revenue of about US$250 billion last year compared to Teck's US$13 billion, produces an array of commodities including, gold, copper, cobalt, zinc, nickel, oil and coal.
Article content
After merging with Teck, Glencore would create two companies. One would control the combined metals portfolio, and could become the world's third-largest copper producer. The other would become a publicly traded company focused on coal. Glencore's plan differs from Teck's in that the two new companies would not depend on the other for revenue.
Teck, however, has rejected Glencore's takeover bids twice. Glencore has vowed to come back with a better offer.
Response to Glencore bid for Teck Resources could hurt mining sector

Pierre Poilievre urges Ottawa to block Glencore's bid to buy Teck

Will Teck cave to Glencore? What's next in the saga
The battle between the two companies has politicians urging the federal government to prevent such a deal from taking place in a bid to ensure that Teck's copper continues to be owned by a Canadian company.
Teck was trading at $56.73 at 9:40 am on the Toronto Stock Exchange, up $1.10 or 1.9 per cent.
• Email: nkarim@postmedia.com | Twitter: naimonthefield