"Vanderpump Rules" cast member Tom Sandoval has been called a lot of names (including "diabolical" and "poo-poo head") since #Scandoval broke. I want to add one more to the mix: incel. In March, the world learned that Tom had cheated on his "life partner" and fellow cast member Ariana Madix with her best friend Raquel Leviss (also on "Pump Rules"). Tom and Raquel ignited a media frenzy so strong it apparently made everyone forget that original cast member Kristen Doute was fired from the show for racism because she made a return to the screen to help Ariana burn things and manifest a new life.
In a lot of ways, this Bravo Universe cheating scandal is like any other heartbreaking story of infidelity, but what is unique is watching every detail unfold on TV between two main players on a reality show. "Scandoval" broke before season 10 of "Vanderpump Rules" started airing, so producers got back to filming as soon as the news hit. Since then, we've been watching this slow-moving car crash unfold in real time, supplemented by the barrage of podcast episodes, rambling Instagram stories and even merchandise made by other cast members. It's through this experience that we realize Tom isn't just a liar, a narcissist or a jerk — he's a bit of an incel too. As we watch Tom convince himself that he is a victim and bring up at every opportunity just how little sex he was having, we learn that the dangerous entitlement and self-victimization that brings extremist incels to murder women already exists within regular men. Tom's logic is warped and his inability to listen to and empathize with his ex-girlfriend of nearly 10 years is more than frustrating and disappointing, it's concerning.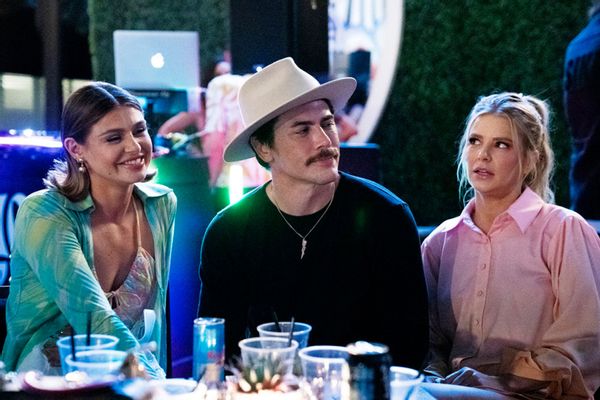 Raquel Leviss, Tom Sandoval and Ariana Madix on "Vanderpump Rules" (Nicole Weingart/Bravo)
Tom isn't just a liar, a narcissist or a jerk — he's a bit of an incel too.
Watching this past season knowing that Tom was cheating on Ariana the whole time throws every moment and comment under scrutiny and eventually, these tiny moments began to add up to a man who sounds vaguely like someone from the dark corner of the internet that is incel chat rooms. On the show, we watched Tom lay the groundwork to leave Arianna and spin a narrative in which he was the victim. There were staged conversations with other cast members in which Tom complained about Ariana, saying that she never does anything for him. Just like incels, Tom is a self-identified victim. He's creating a self-centered narrative in his head where a woman is doing something to him, and that includes withholding things he feels entitled to. 
Even more like incels, for Tom, everything is about sex. Earlier this season, while the couple is discussing their relationship, Tom says that he wants to have more sex. Ariana responds, "OK, well maybe you need to spend more time with me because I cannot have sex with somebody who feels like a stranger." Ariana offers Tom ways to rebuild intimacy and therefore their sex life. She says she wants normal, everyday things like cooking dinner and going on a walk. Tom gives her immediate pushback and shares in the confessional what he wants to do: "Let's take some mushrooms together and watch the sunrise. Let's go skinny dipping in the pool. Let's go hang-gliding. I like *snaps* stimuli." Tom wants what he wants with no self-reflection. He complains about not having sex and feels entitled to it. He feels resentment about the lack of sex in his relationship, and that keeps him from seeing that he did anything wrong; as far as the public has seen, he still hasn't really apologized to Ariana and doesn't really grasp how his affair was wrong. 
Unlike incels, I don't believe that Sandoval is going to resort to violence and kill anyone, but watching him complain about the lack of sex in his relationship and turning himself into the victim of his evil girlfriend not having sex with him does ring an incel bell, especially when this girlfriend clearly is actively sharing what she needs in order to feel more comfortable having sex with him. He's just not willing to do those things. Luckily, not everyone is going to carry out heinous acts of misogyny, but the logic of extreme groups online apparently does work its way into the minds of us all, including our reality TV stars. Tom's more subtle comments and justifications for his actions are the starting point for further radicalization and him saying these things on TV only spreads this logic to more people. It cannot come without pushback.
The logic of extreme groups online apparently does work its way into the minds of us all, including our reality TV stars.
Outside of the show, Tom made an appearance on Howie Mandel's podcast, "Howie Mandel Does Stuff," where he also emphasized just how little sex he was getting. "My confidence was zapped," he told a Mandel, who was oddly chill about the whole thing. "Your sexual experience with me would be equivalent to a 19-year-old's second time. I had no mojo." These kinds of details are important to Tom. The emasculation. The sheer lack of sex in his life. He wants us to know and he wants us to feel bad about them, but it's hard to feel bad for someone who refuses to work with his partner to solve their issues together. He wants them to justify that he cheated on Ariana instead of just breaking up with her, which is what a respectful person would have done.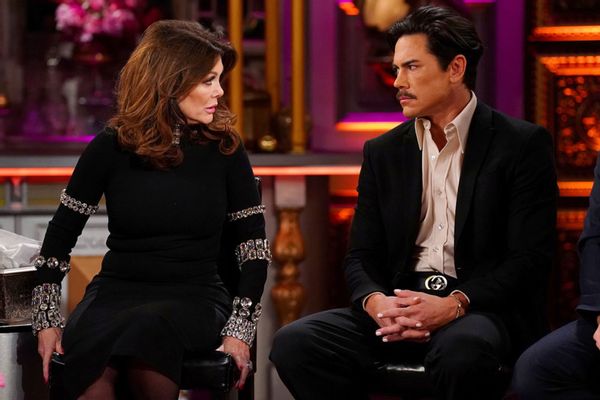 Lisa Vanderpump and Tom Sandoval on "Vanderpump Rules" (Nicole Weingart/Bravo)Tom explained why he didn't break up with Ariana on Mandel's podcast while continuing to lament his sexless relationship. "I got porn. I can just go crack one off in the bathroom," he told Mandel, sadly. "But there were so many other perks: the building of the brand." Tom doesn't even see Ariana for her human value. The first thing that comes to mind about his relationship is that it is a brand. Ariana is not a human, but she is a sex object. 
So much of Tom's entitlement is seen in his body language and tone, rather than the words he uses. It's clear in his scenes that he is convinced he is the victim, when technically speaking, he cheated on his partner with her best friend. Relationships have problems, including dry spells, but ordinary relationship challenges don't make you a victim. Tom's warped logic only serves to bolster incel arguments, even if in a small way. His sense of entitlement to sex and lack of empathy are qualities in some of society's most dangerous (and pitiful) individuals. No one is buying Tom's defense, though. His business has suffered, his cast members have all turned their backs on him (except for fellow Tom, Tom Schwartz) and no one, except for maybe Howie Mandel, who evidently does not watch "Vanderpump Rules," is on his side. May Tom Sandoval never have sex again.
Read more
about reality TV
Source link