"They're really happy to be playing a game soon."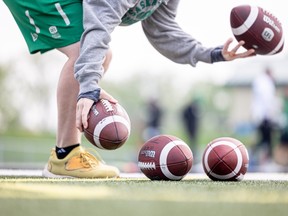 Article content
It's getting closer to game-day and go-time for the Saskatchewan Roughriders.
Article content
Riders held a final practice session Thursday before a scheduled walk-thru Friday prior to their first CFL pre-season game Saturday at home against the British Columbia Lions at Mosaic Stadium.
"They're really happy to be playing a game soon," admitted head coach Craig Dickenson.
"Today was a good day. We didn't push them too hard but I thought we moved around well and the guys are excited that a game is coming. Got to get them through some mental stuff (Friday) and then we play on Saturday and I'm looking forward to it."
For the second straight day, the Riders shortened the morning practice.
'We have a certain number of reps we want to get and, once we get to that rep, we move on," noted Dickenson. "I think it's an indication that the guys are doing a better job of understanding where they're supposed to be and they're moving around quicker. So when we get our work done, we get off the field."
Article content
SPECIAL TEAMS TUNE-UP
The Riders put in extra time on special teams Thursday ahead of the pre-season game.
"Big emphasis on special teams today and also tomorrow (Friday)," said Dickenson. "We've got to make sure we've got 12 (players) out there for every play and we've got to make sure we get some eyes on a lot of these players that are right on the bubble. Special teams are going to be a heavy emphasis (Friday) and a big emphasis in the game."
That includes interest in the punting battle between global punters Kaare Vedvik and Adam Korsak.
"Very" interested, added Dickenson.
"We're going to probably split up the reps between the punters, so you'll see them both a lot in the game."
Overall, Dickenson liked what he saw of special teams Thursday.
Article content
"Just in general, the specialists did a good job today," he said. "It was a little windy and cold and I thought we kicked it well."
RUNNING BACK QUANDARY
A crowded running back room  remains for the Roughriders.
Not everybody will be able to get touches in Saturday's first pre-season game.
"We're not going to play all of them — we haven't told guys that yet," said Dickenson. "We're still figuring out the rotation but we're going to go into the game with three or four running backs and then we'll just try and give them a quarter each."
One of the tailback hopefuls is rookie import Javian Hawkins, a 5-foot-9, 196-pound Louisville product who spent the 2021 Super Bowl championship season on the NFL Los Angeles Rams' practice squad.
Article content
"He's a nice player," said Dickenson. "He shined for us at rookie camp, then he turned an ankle and missed a few days. It seems like now he's getting back and getting his groove on, so he's going to get a lot of action as a running back in the game and we're also going to give him some returns."
QB ROTATION DECIDED, NOT REVEALED
All three quarterbacks vying for the QB2 spot — Jake Dolegala, Mason Fine and Shea Patterson — will share playing time Saturday against B.C. with Trevor Harris away for the birth of his child.
The quarterback rotation has been decided but not yet revealed.
"Yes we have, but we're not telling," said Dickenson with a hearty laugh. "How's that?
"All three will play."
RIDER RUMBLINGS: Amari Henderson had a pick off Dolegala down in the red zone and took it to the house during Thursday's session … Import receiver Kalija Lipscomb, a rookie out of Vanderbilt University who attended the NFL Combine, also "made a couple of plays" in Thursday's session. Lipscomb spent time with the NFL's Kansas City Chiefs, Green Bay Packers and Tennessee Titans' practice rosters. As a junior at Vanderbilt, Lipscomb led the SEC conference with  87 receptions for 916 yards and nine TDS in 13 games. He was also regularly used in the rushing game with 14 carries for 75 yards and one TD.
dzary@postmedia.com
Door open for C.J Reavis at Sam linebacker

Photo gallery: Green and White Day
Check out our sports section for the latest news and analysis. Care for a wager? Head to our sports betting section for news and odds.
Source link