It's been a long time since reality TV was a truly embarrassing thing to appear on. Ever since the 1988 writers' strike, when the genre was introduced to fill gaps in schedules, it has been popular with viewers. Plus, the Apprentice host managed to become the US president, and there have been reality shows starring bona fide movie stars such as Clint Eastwood and Mark Wahlberg. So The Family Stallone, Sylvester Stallone's brazen attempt to turn his kids into reality stars, may come across as a little thirsty, but it doesn't feel like an egregious betrayal of his Hollywood legacy.
We are introduced to him on the set of Tulsa King, the crime drama he has been filming in Oklahoma for the past six months. We see him return to his stunning Hidden Hills estate in LA and his wife of 25 years, Jennifer Flavin – though they frequently remind us that they first fell in love 35 years prior. A quick bit of maths reveals that she was about 19 and he was 41, but hey ho, it was the 80s. Also waiting for him are their three gorgeous daughters: it is not clear if they live there or have jobs or ambitions beyond being Sly's offspring, but in the two episodes provided for review, being his daughter looks pretty fun.
Sly himself is reality TV gold. He has classic movie star charisma, plays into his own mythology with myriad references to Rambo and Rocky, and gathers up pals Al Pacino and Dolph Lundgren to add to the Hollywood glamour of it all. He's eccentric, quick-witted and delightful in every scene or confessional. But there is also the added unintentional humour that the confessionals have been staged to make him look as youthful as possible, with a soft-focus lens that is less convincing than the average TikTok filter.
We hear how Sly proudly raised his daughters as if they were training in the military, with 5am regimens of pushups, golf, shooting pool, shotput, chess, poetry recital and boxing before 7am eggs, Rocky style. There is Sophia, the oldest and most sensible; "fearless" Sistine, the only middle child ever to say that she "gets the best of both worlds"; and Scarlet, "the funny one", though she appears so infrequently we will have to take her word for it. They all seem perfectly lovely and could very well have enough going on to sustain the show and build strong personal brands, but they are so keen to portray themselves as the perfect loving family that it begins to get deeply weird – as anyone with access to the internet can easily find out for themselves.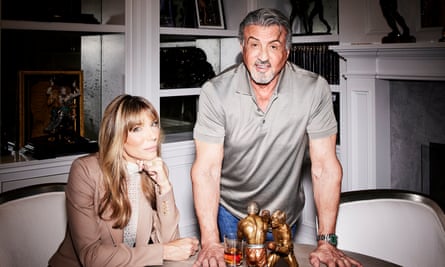 According to the show's timeline, this is all unfolding just after filming for the first series of Tulsa King ends, which Sly posted about on 31 August 2022. In it, we see his wife talk about how "I always get butterflies when I see him" and his daughters echo this sentiment, cooing, "He's obsessed with you." But Flavin's cryptic Instagram post on 10 August sparked speculation about marital troubles, before she filed for divorce on 19 August. Seemingly the couple have since reconciled, given reports of divorce proceedings being legally put on hold on 21 September. They are now promoting the show as a united front, not mentioning those events in TV interviews with their shiny-haired offspring.
But it all makes the show feel very strange and fascinating. On 16 August, Stallone publicly had his tattoo of his wife's face covered with a portrait of a bull mastiff. At the time, Sly's rep stated: "Mr Stallone loves his family. The Stallones are presently filming a reality show together, which will debut on Paramount+." But Sly covered a different tattoo of Flavin with a snow leopard in mid-September.
The show's second episode also features scenes where he and his daughter Sophia discuss how she is considering breaking up with her boyfriend. They're on a gun range, and Sly posted about filming that scene on 28 September, while Sophia's podcast talked about the breakup on 9 August. The show then cuts to "The Next Day" (29 September?), where Sly discusses guiding his daughter to break up with her boyfriend, while Flavin says their marriage works as "you've always been nice and balanced". This is a conversation that would have taken place a few weeks after her divorce filing, after two tattoo removals and after being on the verge of publicly thrashing out the breakdown of their relationship.
So while the inner workings of anyone's family is their own business and celebrities do not owe the public any explanations … what the hell is going on? If they were filming throughout the breakup and makeup why is none of that here? The most likely explanation is the family decided that they wanted to do the reality show but not to air their dirty laundry, so scenes had to be filmed later and fastidiously edited to make it seem as though the family was not going through a dramatic and public rough patch. It is a rewriting of history that is mesmerisingly strange. If nothing else, it shows up one strength of reality TV: it features some of the most creative editing imaginable.
The Family Stallone is on Paramount+.