Following the release of the NFL schedule, GiveMeSport presents our first attempts at ranking teams ahead of the 2023 NFL season.
With the draft out of the way, rookie minicamps underway, senior players beginning to report to OTA's starting in less than two weeks, and the schedule being released the 2023 NFL season really does feel like it is getting closer and closer.
Between now and the start of preseason, teams have the chance to make a few changes here and there with cuts, possible trades and looking into what free agents are still on the market, and whilst the vast majority of teams will have a rough idea of what their starting lineups are going to be, the next few weeks and months will be used as an opportunity to set the last few places on their 53-man roster.
And as a result, we can start to look ahead to what we think will be happening come the end of the season.
We've TierMaker to split the teams into 5 categories for what the league will look like come the end of the season, those categories are:
Serious Super Bowl contenders: This should be pretty self-explanatory, but these are the teams we think will do deep into the playoffs and should be in a position to at least reach the conference championships
Might need some luck: The teams who have got very good foundations and could go on a run, but they just need one or two things extra to go their way in order to separate from the rest of the pack. A breakout year from an unknown player to take them over the top, or for their key player to stay injury-free.
Squeaking into the playoffs: Teams that by hook or by crook will find themselves making the playoffs come the end of the season, but have a good chance of going one and done if they have to face up to some of the more serious competition around them.
Outside looking in: Teams that have a foundation to at the very least not be an embarrassment in the league this year, but just don't have enough to make it into the playoffs when all is said and done.
Tank-mode: This just isn't going to be their year and should be primarily focusing on working towards the future, and if that means sliding up the draft order to get the best player next year, especially one of the top quarterbacks, then so be it.
Those are the criteria, and here is where we think the teams stand at this moment in time: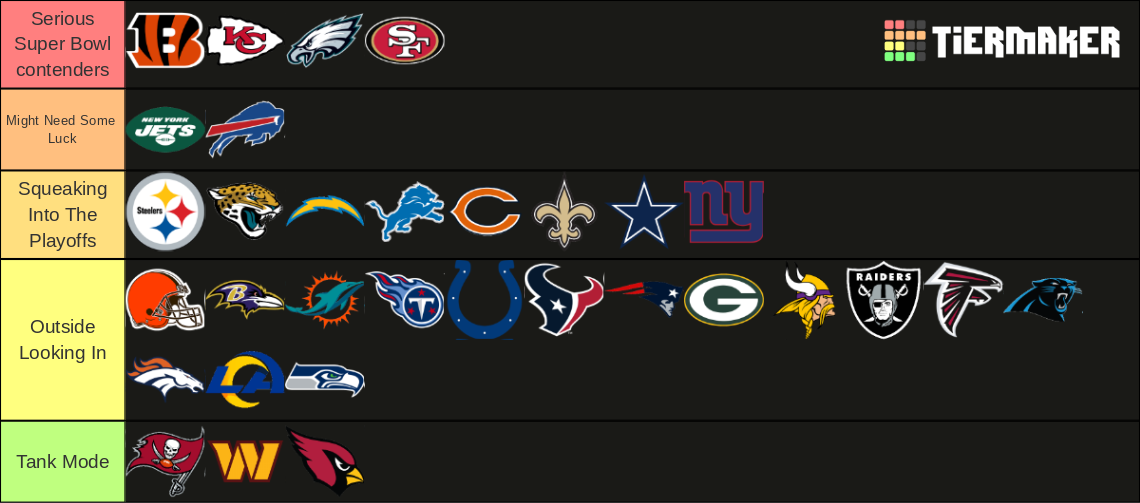 Serious Super Bowl contenders: Cincinnati Bengals, Kansas City Chiefs, Philadelphia Eagles, San Francisco 49ers
Might need some luck: New York Jets, Buffalo Bills
Squeaking into the playoffs: Pittsburgh Steelers, Jacksonville Jaguars, Los Angeles Chargers, Detroit Lions, Chicago Bears, New Orleans Saints, Dallas Cowboys, New York Giants
Outside looking in: Cleveland Browns, Baltimore Ravens, Miami Dolphins, Tennessee Titans, Indianapolis Colts, Houston Texans, New England Patriots, Green Bay Packers, Minnesota Vikings, Las Vegas Raiders, Atlanta Falcons, Carolina Panthers, Denver Broncos, Los Angeles Rams, Seattle Seahawks
Tank-mode: Tampa Bay Buccaneers, Washington Commanders, Arizona Cardinals
Source link