The Rams apparently are no longer ready for prime time.
Last season, the Super Bowl LVI champions nosedived to a 5-12 finish.
Their reward?
A seemingly easier schedule — at least theoretically — though a start that includes a Sept. 10 opener at Seattle, a home game against the San Francisco 49ers and a "Monday Night Football" road game at Cincinnati could leave the Rams winless in September.
Under coach Sean McVay, the Rams are accustomed to making five prime-time appearances. But the game against the Bengals, and a late-season Thursday night game against the New Orleans Saints are the only prime-time games.
The Rams play preseason games against the Chargers and Las Vegas Raiders at SoFi Stadium and on the road at Denver.
A game-by-game look at the regular-season schedule (all times Pacific):
Sept. 10, at Seattle, 1:25 p.m. (Channel 11): After a one-season stopover with the Rams, linebacker Bobby Wagner is back with the team that drafted and developed the six-time All-Pro.
Sept. 17, SAN FRANCISCO, 1:05 p.m. (Channel 11): The Rams' home opener easily could turn into another 49ers' fanfest. But will 49ers quarterback Brock Purdy have recovered from surgery?
Sept. 25, at Cincinnati, 5:15 p.m. (ESPN): Quarterback Joe Burrow is expected to receive a massive payday before the Bengals begin a run for their second Super Bowl appearance in three seasons.
Oct. 1, at Indianapolis, 10 a.m. (Channel 11): The Colts selected quarterback Anthony Richardson with the No. 4 pick in the draft. Richardson will lead a team that features former Rams kicker Matt Gay.
Oct. 8, PHILADELPHIA, 1:05 p.m. (Channel 11): The Eagles rewarded quarterback Jalen Hurts with a new contract. Now he must not only take them to the Super Bowl, but also win it.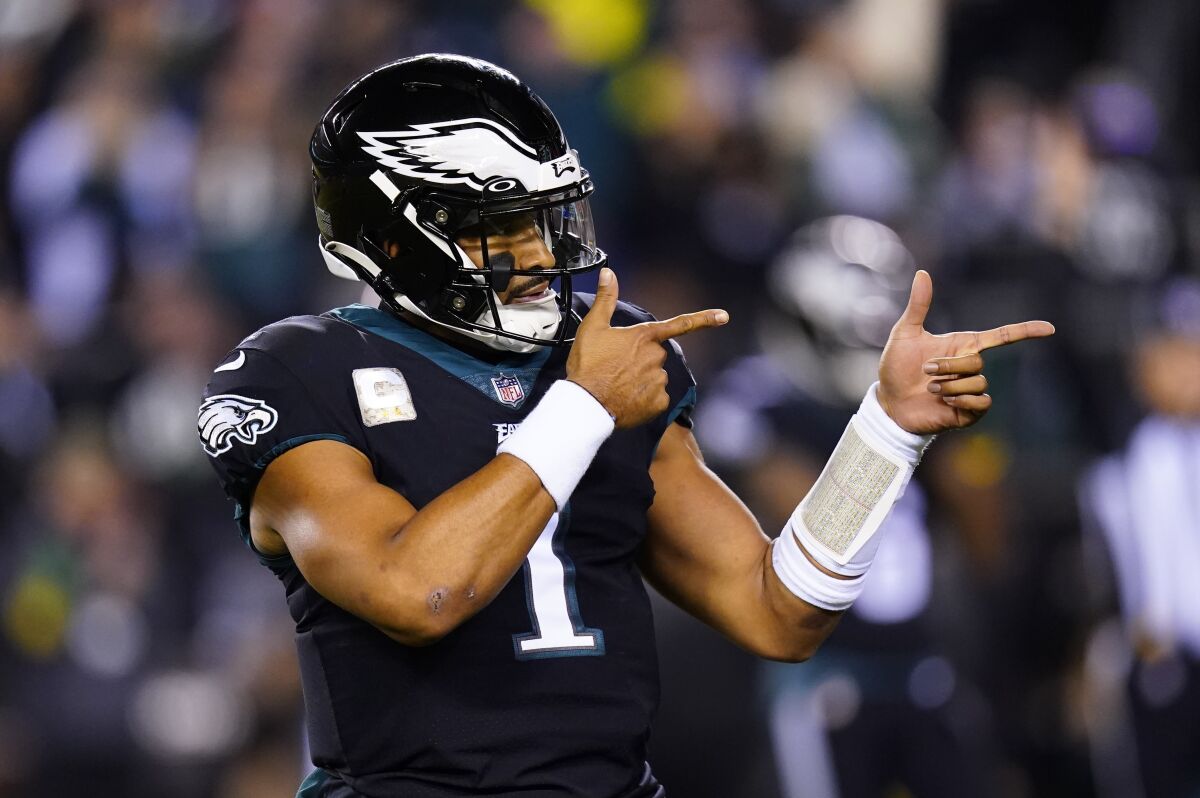 Oct. 15, ARIZONA, 1:25 p.m. (Channel 11): Quarterback Kyler Murray is not expected to play until midseason, with the Cardinals clearly eyeing the 2024 draft.
Oct. 22, PITTSBURGH, 1:05 p.m. (Channel 11): The Rams were unhappy with receiver Allen Robinson's performance last season. Now they are paying $10 million for him to play for the Steelers.
Oct. 29, at Dallas, 10 a.m. (Channel 11): If Dak Prescott can avoid another early-season injury, the Cowboys should contend with the Eagles and New York Giants in the NFC East.
Nov. 5, at Green Bay, 10 a.m. (Channel 11): In what is becoming an annual trip to Lambeau Field, the Rams are happy to face Jordan Love rather than Aaron Rodgers.
Nov. 12, off week.
Nov. 19, SEATTLE, 1:25 p.m. (Channel 2): After last season's outstanding performance, the Seahawks re-signed veteran quarterback Geno Smith and then loaded up in the draft.
Nov. 26, at Arizona, 1:05 p.m., (Channel 11): The Cardinals hired former Eagles defensive coordinator Jonathan Gannon. Two months later, star safety Budda Baker made it known he wants to be traded.
Dec. 3, CLEVELAND, 1:25 p.m., (Channel 11): Embattled quarterback Deshaun Watson will have a full season to prove the Browns were correct — or crazy — to fully guarantee him $230 million.
Dec. 10, at Baltimore, 10 a.m. (Channel 11): Star receiver Odell Beckham Jr. helped the Rams win a Super Bowl. Quarterback Lamar Jackson hopes he will do the same for the Ravens.
Dec. 17, WASHINGTON, 1:05 p.m. (Channel 2): The sale of the Commanders is expected to be completed before the opener but coach Ron Rivera's team still looks bargain-basement quality.
Dec. 21, NEW ORLEANS, 5:15 p.m. (Prime Video): Derek Carr could not beat the Rams in a Thursday night game with the Raiders. The odds of that happening did not improve with his move to the Saints.
Dec. 31, at New York Giants, 10 a.m. (Channel 11): Second-year coach Brian Daboll and newly extended quarterback Daniel Jones aim to build off last season's playoff appearance.
Date TBA, at San Francisco, TBD (TBD): The 49ers signed defensive tackle Javon Hargrave, another disruptive force for a defensive front that includes Nick Bosa and Arik Armstead.
Source link