Unfortunate events of violence have always been an issue in the country. While being pro athletes, NFL players have used their platform to publically voice out their stance on harrowing issues of social justice. One of the best examples was Colin Kaepernick voicing out his thoughts on the issue of players being treated unfairly. Recently, Kyler Murray, the Cardinals' QB publically addressed an incident that took place in the town of his high school.
Murray took to Twitter to address and give condolences to those who were a part of the catastrophic shooting in Texas. Furthermore, he was quite enraged and even offered his sincere help to those who were affected.
The outrage of Kyler Murray due to a recent catastrophe
ADVERTISEMENT
Article continues below this ad
Recently, there had been a mass shooting in Allen, Texas. A gunman shot up an outlet mall, killing eight and injuring seven people. The gunman is also dead. After the news of the incident went viral, several NFL took to Twitter to voice out their thoughts on the incident. Kyler Murray was one of them.
This is sickening. Prayers to the mass shooting victims in Allen, Texas.

If there is anyway I can help those affected by this tragedy please let me know.

When is this shit gonna stop?

— Kyler Murray (@K1) May 6, 2023
Murray was enraged at the incident that took place. He took to Twitter to extend his deepest condolences to the victims. Furthermore, the QB also mentioned that he was ready to help them out in any way he could. Murray also expressed his anger for the repeated incidents that keep on happening.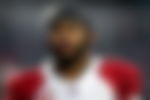 It is important to note that Murray might have some level of personal feelings attached to Allen, Texas as he is an alum of the Allen High School.
Murray was not the only one who had something to say about the shooting. There were several other NFL players who spoke up against the horrible atrocity. A lot of them made their stance on the issue.
NFL athletes voice out their frustration
Multiple NFL players took to Twitter to address the atrocity that occurred in Texas. They're all alumni from Allen High School, all emotional over the incident. Seattle Seahawks safety, Steve Terrell, took to Twitter to send his prayers to the city of Allen. Notably, he attended Allen High School like Murray.
Please pray for the city of Allen and the victims at the outlet mall today. Such a tragedy 😔

— Steven Terrell (@SdotTerrell) May 6, 2023
Furthermore, Jonathan Williams, another alum from Allen High School and the current Wahington Commanders' running back expressed his thoughts. He spoke about the tragic news and sent out his prayers.
Man terrible news in my hometown. Praying for the families!

— Jonathan Williams (@Jwillpart2) May 6, 2023
ADVERTISEMENT
Article continues below this ad
Finally, Levi Onwizurike, who grew up in Allen and went to Allen High School, spoke about the incident. He is currently a defensive tackle for the Detroit Lions.
Praying for Allen and All the people and families affected 🙏🏿 So senseless

— Levi Onwuzurike. (@LeviOnw) May 6, 2023
ADVERTISEMENT
Article continues below this ad
All in all, players were shocked and devastated by the incident that occurred in their hometown. It only remains to be seen how other members of the NFL community are going to react to such horrifying news.
Watch This Story: Cardinals HC Kliff Kingsbury's girlfriend brings up the heat on social media after posting a cheeky photo from her vacation in Greece