Good morning, and welcome to the Essential California newsletter. It's Thursday, May 4. I'm Bill Plaschke, a sports columnist embedded in a California sports columnist's dream.
The Lakers. The Golden State Warriors. The NBA playoffs. Utter, unfiltered madness.
The two unfriendly neighbors will spend the next two weeks competing in a best-of-seven series in the Western Conference semifinals that will shake the state of California at its deepest sporting roots.
The Lakers are the greatest franchise in basketball history with a record-tying 17 championships. The Warriors are the greatest franchise right now, the defending champions with four titles in eight years.
The Lakers are led by arguably the best basketball player ever in LeBron James. The Warriors are led by the undoubtedly best shooter ever in Steph Curry.
The Lakers are brimming with Hollywood stardom, James throwing down tomahawk dunks, Anthony Davis blocking shots on to Figueroa. The Warriors are, well, Bay Area cute and trendy, led by a rainbow-popping duo Curry and Klay Thompson known delightfully as the Splash Brothers.
It's a culture clash typical of SoCal versus NorCal, the Dodgers versus the Giants at warp speed, the Rams versus the 49ers with unadorned contact, a new sizzling version of the same ancient rivalry that has captured this state's imagination for more than 60 years.
The stars aligned themselves for this, the Lakers advancing here after James saved a first-round game against the Memphis Grizzlies with a last-second layup and the Warriors advancing when Curry scored a Game 7 record 50 points against the Sacramento Kings.
The fan bases also aligned themselves for this, warming up their voices and marking their calendars for another shot at shouting down their great geographic annoyances.
In Los Angeles, there has been a return of an unbridled passion not experienced around these parts since Kobe Bryant was leaping on scorers' tables. With its famous tenants in a championship hunt for the first time in more than a decade, the downtown Crypto.com Arena has been a deafening swirl of roars, chants and standing ovations for the season's first appearance of courtside deity Jack Nicholson.
The normally reserved front-row fans have run on to the court to protest calls. The generally calm crowd has been booing every opponent on nearly every play. It's been wild. It's been wonderful.
In San Francisco, it's been the same, a continuation of the love that for five years has been showering down from the dizzying heights of the spiffy Chase Center. Furiously, they chant, "Beat L.A." Heartily, they bellow, "Loooney" for center Kevon Looney. And every time a three-point attempt soars into the sky — every single time! — they audibly gasp in anticipation of a thunderous roar if the basketball completes its intended journey.
The more physical Lakers stole the opener Tuesday by withstanding a frenetic late Warriors blitz. The Lakers said that, now that you mention it, the Warriors fans really weren't that loud. The Warriors vowed to bring more noise in Thursday's Game 2. Both teams slipped off into a rainy night with glares and grimaces.
A California sports columnist's dream.
Please, don't wake me.
And now, here's what's happening across California from Ryan Fonseca:
Note: Some of the sites we link to may limit the number of stories you can access without subscribing.
L.A. STORIES
L.A. is obsessed with sushi, but it wasn't always that way. Back in the 1960s, the state of Asian cuisine was grim. But when two friends sat down for a fateful meal in Tokyo, a big idea hit like a hearty dollop of wasabi. My colleague Daniel Miller explored the history of L.A.'s sushi revolution. Los Angeles Times
A plan to dramatically increase housing in downtown L.A. faced backlash from the area's garment workers, who feared new development could push out businesses. A revision to the plan aims to keep that from happening, but now some business leaders warn it could prevent as many as 12,000 new residential units from being built. Los Angeles Times
POLITICS AND GOVERNMENT
In 2019, Gov. Gavin Newsom assured state legislators that a polarizing tax they approved to penalize Californians without health insurance would be used to lower healthcare costs for people enrolled in Covered California. But most of the money generated through the tax has flowed into the general fund, prompting lawmakers to put more pressure on Newsom to make good on his promise. CalMatters
California state Sen. Dave Min (D-Irvine) was arrested on suspicion of drunk driving in Sacramento on Tuesday night and released the following day. Min, who is running for Congress next year, apologized in a statement. "My decision to drive last night was irresponsible," he said. "I accept full responsibility and there is no excuse for my actions." Los Angeles Times
CRIME, COURTS AND POLICING
After three stabbings within a week in the small city of Davis, residents are afraid the attacks are the work of a serial killer. Police have yet to identify or locate the suspect, who killed an unhoused man and a UC Davis student in separate stabbings, and critically injured a woman in a third attack. Los Angeles Times
San Diego remains a gun law battleground, with a recent lawsuit from a gun rights group challenging California's 10-day waiting period for firearm purchases. The plaintiffs argue it's unconstitutional for buyers to be forced to wait, while safety advocates point to studies that show "cooling-off periods" reduce gun deaths. San Diego Union-Tribune
HEALTH AND THE ENVIRONMENT
National Park Service biologists are keeping tabs on a more recent resident of the Santa Monica Mountains: a male black bear, dubbed BB-12. This marks the first time a bear has been captured and radio-collared in the range. Biologists say they're interested to see how the bear will share the area with other large carnivores — as in mountain lions. Ventura County Star
A new study found California's electric vehicle rebate and the resulting surge in EV purchases is helping clean the air — but not everywhere. Researchers from UC Berkeley, the University of North Carolina and the University of Miami reviewed the geographic distribution of more than 400,000 EV rebates and modeled air pollution data, concluding that more affluent areas are reaping the benefits of electric cars, while fine particle pollution actually increased in low-income communities. Bloomberg News
CALIFORNIA CULTURE
If you haven't had the pleasure(?) of seeing downtown Palm Springs' famous and adorably creepy "Babies" exhibit, better hurry. All but one of the 10 statues of giant crawling babies with barcodes for faces is heading to Mexico in June. Desert Sun
Citing a budget shortfall, UC Berkeley was set to close the book on its anthropology library. But a group of students, faculty and community members is fighting to save it. The group has been occupying the library for the last two weeks, calling on administrators to keep it open. KQED
Free online games
Get our free daily crossword puzzle, sudoku, word search and arcade games in our new game center at latimes.com/games.
AND FINALLY
Today's California landmark is from Carl Lang of Sherman Oaks: Point Dume Natural Preserve in Malibu.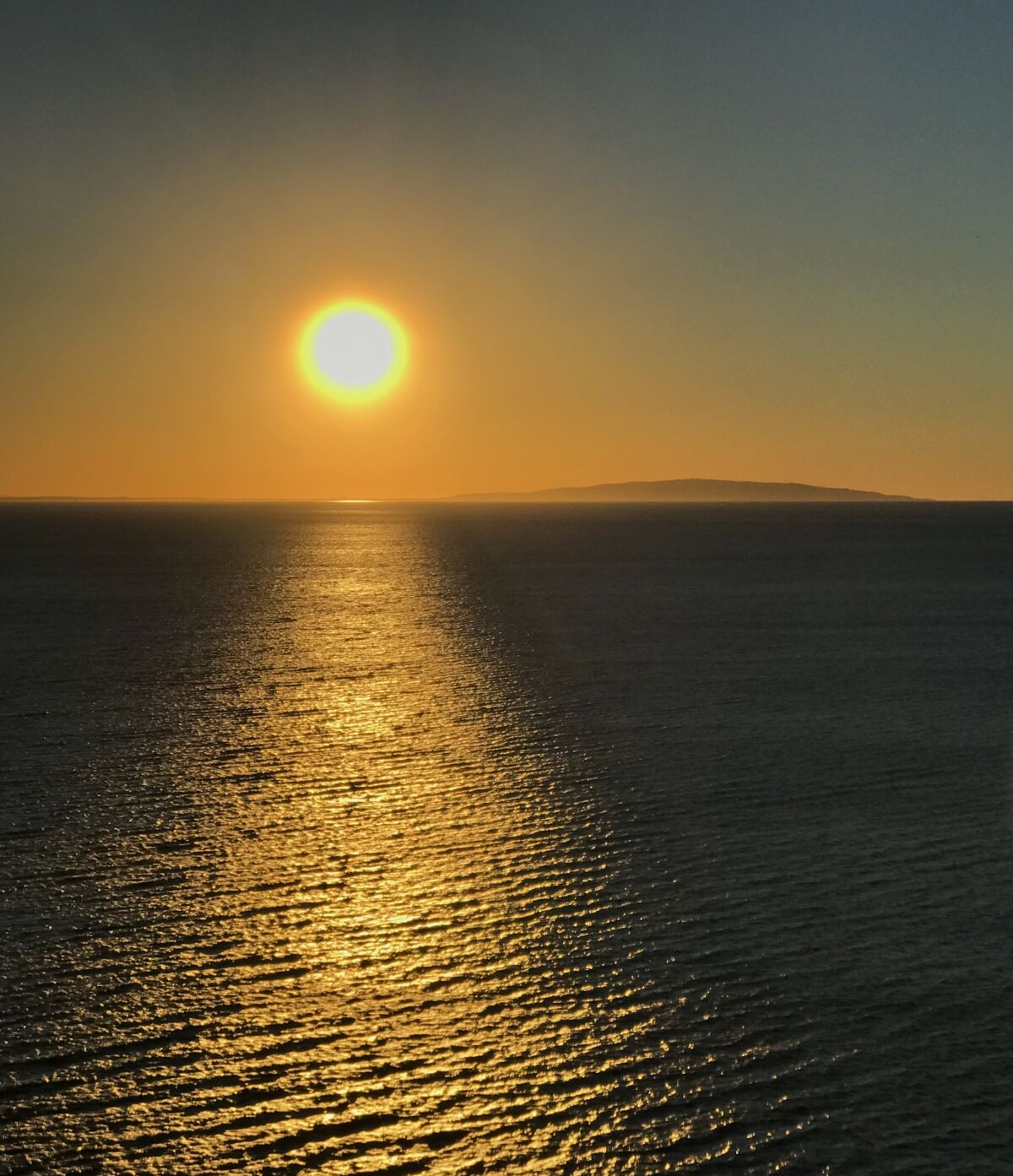 Carl writes:
Point Dume has many wonderful features, but being a spot on the West Coast where one can see the sun rise over Santa Monica Bay is one feature that makes it unique (not to mention the 270-degree view from the peak).
What are California's essential landmarks? Fill out this form to send us your photos of a special spot in California — natural or human-made. Tell us why it's interesting and what makes it a symbol of life in the Golden State. Please be sure to include only photos taken directly by you. Your submission could be featured in a future edition of the newsletter.
Please let us know what we can do to make this newsletter more useful to you. Send comments to essentialcalifornia@latimes.com.
Source link