A meeting went off the rails after Eric Casteel, a former GOP Allegheny County Council candidate, reportedly pulled out a gun and threatened three members of the Plum Borough Republican Committee (PBRC) in Pennsylvania on Thursday night.
Casteel, who ran for a seat on the council in 2021, began yelling at some point during the meeting, which was held at the Plum Community Center and then walked out saying that he would come back, according to the criminal complaint cited by TribLIVE on Friday.
Members of the committee told police that Casteel, 62, walked out of the meeting upset, however no details were provided about whether or not he argued with his fellow Republicans before pulling out the gun. Three committee members followed him out and noticed what appeared to be a gun in his waistband, CBS News reported. They told police that Casteel allegedly followed them with the gun when they turned around and allegedly pointed it at them, threatening to shoot. But, he left after members said they would call the police.
The incident comes at a time of renewed calls for stricter gun control measures following a number of mass shootings that have recently unfolded across the country. There have been at least 163 mass shootings in the United States so far this year, according to the Gun Violence Archive, an organization that tracks shootings across the country. That figure was 646 last year and 690 in 2021. Meanwhile, there were 272 mass shootings in 2014, the earliest year the organization began monitoring gun data.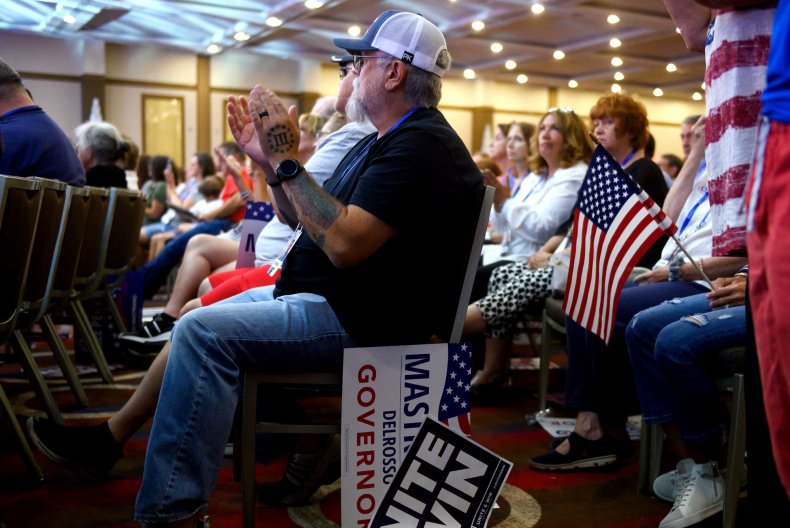 "During Thursday's meeting of the Plum Republican Committee, an individual took issue with the vote for a new vice chair. That individual left the meeting and later confronted three members in the parking lot," said Sam DeMarco, Chairman of the Allegheny County Republican Committee, according to CBS News. "The person brandished a handgun, then left. The gun was not discharged and the individual was later taken into custody by police. The Plum Police Department is handling the matter."
Casteel was arrested at his home on Valley Fields Drive in Plum where authorities found a firearm with a loaded magazine inside his son's car, along with a live round in the chamber, according to the complaint.
The ex-Republican candidate, who currently works as a cybersecurity architect, according to his LinkedIn profile, is facing multiple charges related to the incident, including terrorist threats, reckless endangerment, and simple assault. Casteel was being detained in the Allegheny County Jail in lieu of a $25,000 cash bond and faces a preliminary hearing May 10, according to court records, cited by TribLIVE.
Meanwhile, some Republicans have been pushing back against stricter gun safety measures, saying that such calls would violate the Second Amendment, which guarantees "the right of the people to keep and bear Arms."
However, Congress passed a bipartisan gun safety bill last June that raised the minimum age at which a person can buy a semi-automatic weapon, banned civilians from using magazines with more than 15 rounds, and created new federal offenses for gun trafficking.
Newsweek reached out to the Republican Committee Allegheny County and the Plum Police Department via their websites for comment.
Source link