Taking down ranked teams is a daunting challenge, one Penn State must rise to when it takes on No. 18 Miami in Coral Gables, Florida, to open the 2023 season.
Penn State is coming off one of its most successful seasons in recent history, posting a 26-29 record and reaching the Big Ten Tournament for the first time in coach Rob Cooper's tenure in Happy Valley.
While the chase for the program's first .500 record in a full season since 2016 remains at the forefront, the Nittany Lions open a promising season with a Miami team that's posted national success year after year, firmly cementing itself as a perennial powerhouse of college baseball.
The blue and white is no stranger to playing top-25 teams in the nonconference schedule, playing then-No. 5 Virginia last season, which came just two wins shy of a trip to the College World Series in Omaha, Nebraska.
With notable alumni like Milwaukee Brewers All-Star Ryan Braun, home run slugger Greg Vaughn, current Boston Red Sox manager Alex Cora and Baseball Hall of Fame catcher Mike Piazza, Miami is a storied program that has captured four national championships with 25 College World Series appearances.
Cooper will guide a group that's led by an experienced lineup and pitching staff with plenty of guys looking to leave a greater mark in the blue and white. Throughout the three-game series with the Hurricanes, Penn State is on the hunt to take down a team that made its 50th NCAA Tournament regional appearance a season ago.
"It'll be a good regional test for us to go up against," junior infielder Kyle Hannon said. "Whether we win a couple games or lose a couple games, it doesn't really define the whole season, but we're definitely excited to go down there and see what we can do, prove to other people how good we are."
Coming off of a 40-20 season, Miami hosted its regional in Coral Gables as the No. 6 overall seed in 2022, boasting one of the most talented pitching duos with left-handed starter Carson Palmquist and right-handed reliever Alex McFarlane.
Palmquist and McFarlane were two of six Hurricanes taken in the 2022 MLB Draft. Palmquist was selected as a third-round pick of the Colorado Rockies, and McFarlane was taken as a fourth-round pick by the Philadelphia Phillies.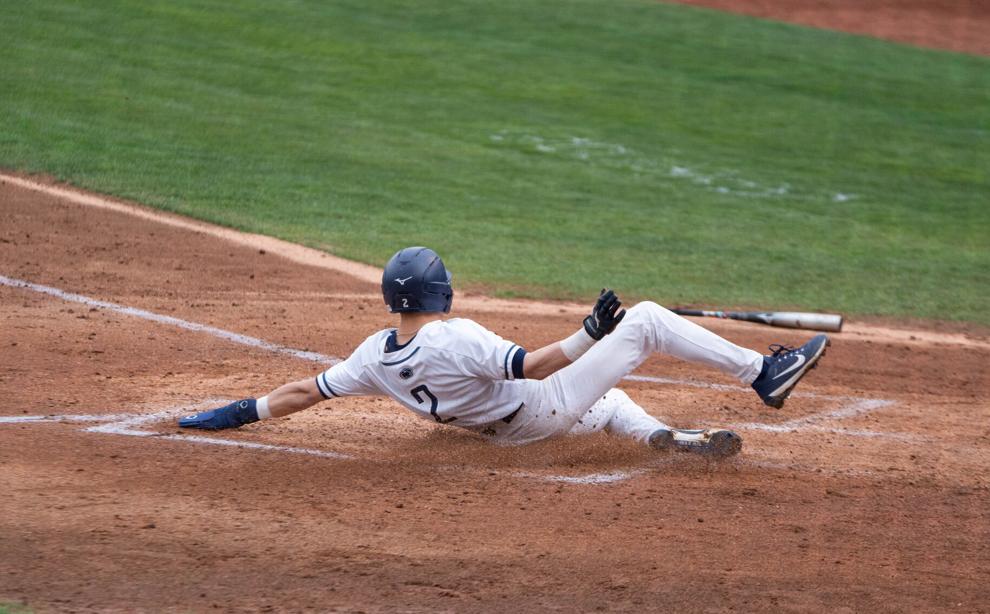 Despite the losses, bench boss Gino DiMare has plenty of impactful returners to fill the void left by the draftees. With that, Miami was selected as the preseason favorite to win the ACC Coastal and will carry one of the best corner infields in the nation.
"If our guys go down there and they approach this game or play differently because it's the University of Miami, then we're not going to ever get to the level that we want to get," Cooper said. "We need to approach the game and respect our opponent the same way, doesn't matter where we're playing or who we're playing."
At third base stands the towering Yohandy Morales, a 6-foot-4, 225-pound junior who can mash with the nation's best. After hitting .329 with 18 home runs, 59 RBIs and 79 hits last season, Morales played with the Collegiate National Team last summer.
The Miami native was tabbed a preseason third-team All-American by D1Baseball and the No. 15 overall prospect for the 2023 MLB Draft, according to MLB.com.
Morales' dominance at the hot corner is also reflected by his battery mate and fellow corner infielder CJ Kayfus who was also picked as a preseason third-team All-American. In 2022, the first baseman posted a team-leading 87 hits, .366 batting average and .460 on-base percentage.
"I think first and foremost, you as a team and your players, and — I think we're in a good place right now at this — you gotta want to be in those games," Cooper said. "You gotta want to face those type of guys, and we have guys that have done that against players like that."
Swinging around the infield is the dynamic middle infield duo of junior shortstop Dominic Pitelli and sophomore second baseman Dorian Gonzalez Jr., with the former posting eight homers with 45 RBIs and the latter showing off his ability to get on base at a high level in his first season in Coral Gables.
In the outfield, Florida Gulf Coast transfer and junior Ian Farrow heads to Miami as one of the top power hitters in the portal, tallying 21 homers and 75 RBIs — both program records — with a .322 average. Veteran junior Zach Levenson is another .300 hitting outfielder who posted seven home runs and a .420 on base percentage.
The Hurricanes also boast a talented pitching stable with D1Baseball first-team All-American and No. 1 ranked reliever Andrew Walters. The Palm Bay, Florida, product rode a 1.65 ERA and 14 saves to being drafted in the 18th round by the Baltimore Orioles in the 2022 MLB Draft but decided to return to Miami.
In terms of starters, Miami will need other arms to step up, including a pair of sophomore standouts. Gage Ziehl, 2021 11th-round pick of the Chicago Cubs, and 2022 ACC all-freshman team selection Karson Ligon will lead a talented staff with junior right-hander Ronaldo Gallo.
"To play in a regional atmosphere, you know, a sold-out crowd weekend, one down in Miami," junior outfielder Billy Gerlott said, "I mean there's nothing better than that, there's nothing better than that."
MORE BASEBALL COVERAGE
Source link