WASHINGTON — The gun reform law Congress passed after two mass shootings by teenagers last year has begun blocking some firearm sales to people under 21.
So far, more stringent background checks for younger gun buyers have resulted in 64 denied transactions, an FBI spokesperson told HuffPost on Wednesday.
The Bipartisan Safer Communities Act, signed by President Joe Biden in June, expanded criminal background checks for sales at licensed gun dealers to include searches of juvenile records for prospective buyers ages 18 to 20.
The new law requires the FBI's National Instant Criminal Background Check System to look for potentially disqualifying information at local law enforcement agencies, state criminal juvenile justice repositories, and state custodians of mental health records. Previously, the system generally looked only at adult court records.
The expanded checks were phased in with just one state participating in October and a national rollout on Jan. 3. Since the law's enactment, the system has denied 425 transactions involving buyers ages 18 to 20, the FBI said, with 64 of those a direct result of the new law's juvenile background checks. It's possible that firearm dealers refused additional transactions and that some sales went through without a timely response from the system.
Sen. John Cornyn (R-Texas), one of the lead authors of the law, said Justice Department officials told him during an early January congressional visit to a background check facility in Clarksburg, West Virginia, that the new policy had blocked 27 firearm sales to people under 21.
"They're starting to actually deny gun purchases based on juvenile mental health and criminal records," Cornyn told HuffPost. "It's just the beginning, and hopefully as the bill's being implemented it will have a bigger impact."
There's no doubt 64 rejected transactions represent a small impact, given the overall volume of gun purchases. People with felony criminal records or restraining orders have long been barred from gun ownership, and in 2021, the most recent year for which data is available, the national background check system ran nearly 10 million checks, denying more than 153,000 transactions, according to the FBI's latest report.
Peter Ambler, director of the gun control group Giffords: Courage to Fight Gun Violence, said the fact that the new law has already prevented several dozen under-21 gun sales shows there's plenty of opportunity for Congress to make people safer from gun violence.
"Even the most cursory of investigations and examinations are going to uncover people whose histories show that it would be irresponsible for any society to allow them to purchase or carry a gun," Ambler said in an interview.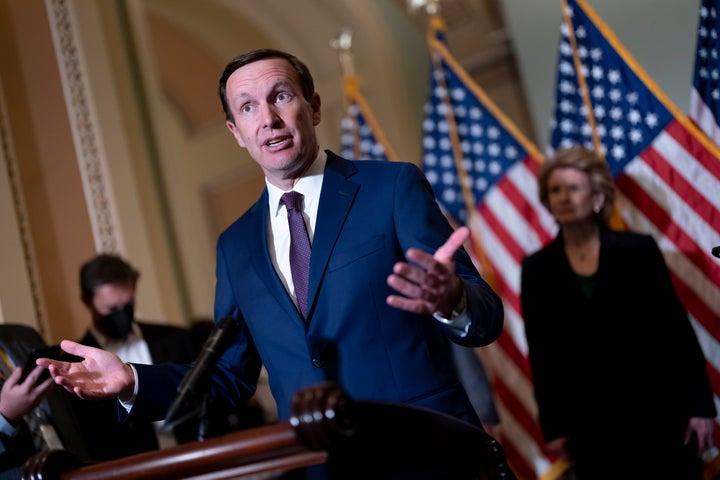 Sen. Chris Murphy (Conn.), one of the Democrats who helped write the legislation, said it's likely that local police contacts have garnered the most helpful information for the FBI.
"It is a big, relatively uncovered story, the fact that this has been implemented and is stopping people from getting guns," Murphy said.
Back-to-back mass murders in Buffalo, New York, and Uvalde, Texas, by teenage gunmen using legally purchased assault rifles, prompted lawmakers to act last year. Democrats talked about an outright ban on gun sales to people under 21 — after all, Congress recently raised the age requirement for tobacco sales to 21 — but Republicans wouldn't hear it.
The eventual compromise included the expanded background checks, grants for states to enact "red flag" laws, extra funding for mental health services, and a temporary ban on gun ownership for abusive dating partners.
But even though the law expanded background checks for gun buyers under 21, lawmakers did not close the massive loophole exempting firearm sales from background checks if the seller is not a licensed firearms dealer. In other words, if a background check prevents a teenager from buying a rifle from a licensed dealer, he can still buy the rifle at a gun show or from a stranger on Facebook without passing a background check. Not only is there no background check, there is no federal age restriction for private rifle sales.
An October shooting illustrated how the loophole works. Police said a background check prevented a 19-year-old from buying an assault rifle from a licensed dealer in Missouri — potentially an example of the new law's expanded background checks in action.
But all the teen had to do was turn to a private seller who had bought an assault rifle from a licensed dealer two years prior. The 19-year-old brought the gun to his former high school, where he killed two people and wounded seven others before police arrived and shot him.