Thirty-four Republican senators have introduced a resolution to overturn a rule on cutting emissions for heavy-duty trucks. The rule was created by the Environmental Protection Agency (EPA) in December.
The EPA's rule forces heavy-duty truck makers to reduce their trucks' emissions, and it is more stringent by 80 percent compared to current standards.
Under the Congressional Review Act, a simple majority vote in both chambers of Congress can reverse recently finalized rules. Democrats hold a 51–49 majority in the Senate, while Republicans narrowly control the House.
Sen. Deb Fischer (R-Neb.) and 33 other Republican senators say the Biden administration rule would be challenging to implement, would make the cost of a new truck difficult to afford for small businesses, and would increase supply chain costs.
The transport companies may pass the higher cost of their fleet to the end consumer.
The EPA rule is set to take effect on March 27 and will impact the manufacturing of heavy-duty trucks starting from model year 2027.
"The Biden Administration is saddling the trucking industry with an onerous regulation that would jack up vehicle costs and hurt good paying jobs," Fischer said in a statement. "This aggressive EPA rule—which will hit mom and pop truck operations the hardest—is also ineffective because it incentivizes operators to keep using older, higher-emitting trucks for longer."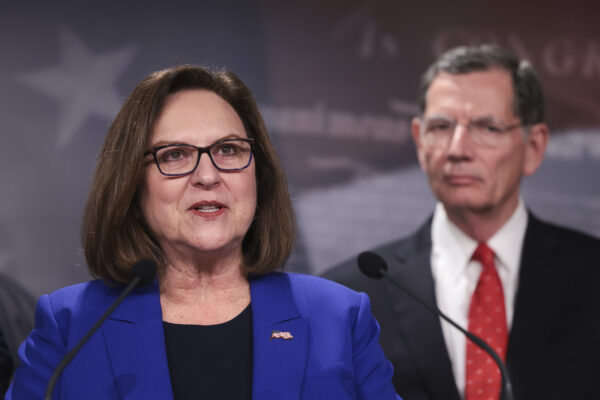 The senators argued that existing regulations have already cut emissions by 98 percent for modern trucks compared to those built in the late 1990s.
The new EPA rules target heavy-duty truck and engine manufacturers by tightening yearly emissions limits and changing key provisions of existing rules to ensure emissions reductions in long-term road use. The rules toughen test procedures, regulatory useful life requirements, and emission-related warranties.
"It's really important, especially for protecting the health of the 72 million people living near truck freight routes in America," EPA administrator Michael Regan said in December.
"EPA developed the final rule based on a robust, complete technical record consistent with the authority set forth in the Clean Air Act. […] The new standards are more than 80% stronger, increase useful life of governed vehicles by 1.5–2.5 times, and will yield emissions warranties that are 2.8–4.5 times longer," an EPA spokesperson said, according to the Daily Caller. "This final rule includes provisions for longer useful life and warranty periods. These provisions guarantee that as target vehicles age, they will continue to meet EPA's more stringent emissions standards for a longer period of time."
Todd Spencer, president of the Owner-Operator Independent Drivers Association, said if small business truckers could not afford the new, compliant trucks, they would stick with older, less efficient trucks or exit the industry entirely.
Separately, the EPA plans to propose by next month "Phase 3" greenhouse gas standards for heavy-duty vehicles and new emissions standards for light- and medium-duty vehicles. Both are to take effect in the 2027 model year.
In December 2021, the EPA finalized new passenger vehicle emissions requirements through 2026 that reversed President Donald Trump's rollback of car pollution cuts.
Reuters contributed to this report.
Source link