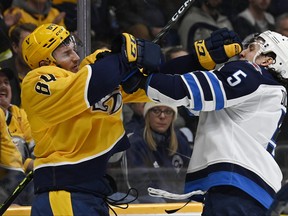 Article content
Brenden Dillon knew his time in San Jose was likely coming to an end.
Article content
Then-Sharks general manager Doug Wilson, who held the post for 19 years before stepping down last spring, had kept his veteran defenceman — a pending unrestricted free agent — apprised of the team's situation while the floundering club entered sell mode leading up to the trade deadline in 2020.
On Feb. 18 of that year, a few days prior to the deadline proper, Dillon was shipped out to Washington, with the Capitals sending back a 2020 second-rounder and a conditional third in 2021.
"(Wilson) was pretty open with me," Dillon said Friday after the Winnipeg Jets put in a 45-minute skate at Canada Life Centre. "The Sharks, we weren't going to make the playoffs. I was fortunate that we made the playoffs five years prior. You kind of know, as a player, the teams that are going for it and that are going to be adding, and the teams that aren't, who are going to be subtracting."
Article content
Dillon was part of the latter three years ago, heading to a Washington team in first place in the Metropolitan Division standings after 69 games before the season was cut short due to the COVID-19 pandemic.
That same year, Jets forward Sam Gagner was part of a package sent to the Detroit Red Wings by the Edmonton Oilers, a buyer that was trying to supplement its roster as it jostled with Vegas for the top spot in the Pacific Division.
The 33 year old, who played in his 1,000th NHL game earlier this season, was the unfortunate party in that trade, leaving a contender to join a club shedding some of its talent in a lost season.
This time around, Gagner may not get traded away from the Jets, but as a bubble player on a healthy Jets roster, the prospect of adding pieces could see Gagner on the outside looking in come playoff time.
Article content
"Ultimately, you just want to contend for a championship, that's the main focus and you want to be around for that," Gagner said.
Despite 16 seasons spent primarily in the NHL, Gagner has only been to the promised land twice, playing six post-season games with the Philadelphia Flyers in 2015-16 before a further five the following year as a member of the Columbus Blue Jackets.
"You need depth going into the playoffs, you gotta be prepared for anything," Gagner said. "But yeah, certainly you want to be a part of it.
"Ultimately, it's on you to go out there and perform when you get the opportunity and help your team win games."
It's both the fortunate and unfortunate part of being a successful team, Dillon said.
"Some guys that are sitting out on certain nights probably wouldn't be on other teams in the league," he said. "Guys in Sam's role, he understands it. He's been a great teammate about it. I know it's not an ideal situation. You see how hard guys work and how much they want to be in the lineup."
Article content
There are casualties, even on a winning team.
And head coach Rick Bowness knows there will be some tough conversations to be had in the coming days and weeks.
"You just try to keep the open and honest communication as best we can," he said. "Someday, when we're healthy — completely healthy — someone is going to have to leave. It's as simple as that. That's as simple as we can make it.
"Those are tough conversations, but they have to be made. We're all pros. Some of these guys are going to hear news they aren't going to want to hear. But it's the reality of the situation. You gotta be a man.
"Let me put it this way: You signed up for this. It's not always roses out there. It's not. There's some tough moments in a professional athlete's career.
Article content
"We're going to have to make some very tough decisions, there's no question. But they have to be made. They have to live with the decisions that have to be made."
DeMelo getting closer, but no timeline for return
Jets defenceman Dylan DeMelo took in another solo skate on Friday as he continues to recover from a lower-body injury that has sidelined him for the past two games.
He, along with forward David Gustafsson, nursing an upper-body injury, was still not ready to return to team skate as of Friday.
"I would say DeMelo is ahead of David at this point," Bowness said. "DeMelo is probably much closer to playing. We'll see. They'll skate again (Saturday), and we'll see his availability for practice on Monday and go from there."
The Jets are off on Super Bowl Sunday and return to the practice ice on Monday ahead of Tuesday's home game against the Seattle Kraken.
Source link