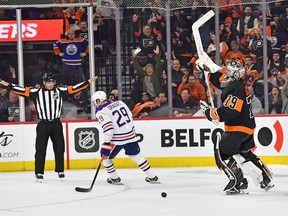 Article content
The late great Tom Petty liked to remind us that 'Even the losers get lucky sometimes.'
Article content
And Ryan Nugent-Hopkins would like to remind us that it's not luck.
Article content
No matter what the standings say.
Having just been out-worked in a 2-1 loss to the 12th-place team in the East, the Oilers discovered, the hard way, what they should have known already — no opponent is taking a knee just because the oddsmakers say it's a mismatch.
Edmonton isn't that far removed from being one of those teams languishing at the bottom of the league. For years, as they struggled with failed rebuilds in a stretch that saw them finish 21st, 30th, 30th, 29th, 24th, 28th, 28th and 29th overall, the cover of their media guides should have read 'Wait Till Next Year.'
And even those teams got their pound of flesh once in a while.
"As a player, it's no fun losing night after night," said Nugent-Hopkins, who's been through the worst of it during his 12 seasons in Edmonton. "I was in that position before and it's frustrating."
Article content
But he can tell you from experience that, as painful and humbling as it was being a bottom-feeder, none of those teams ever quit or gave one second's worth of thought to the draft lottery.
They lived for the upset.
It's something all of the Oilers need to keep in mind as they wrap up their road trip against Ottawa and Montreal, the 14th and 15th-place teams in the East, before returning home to play 13th-place Detroit.
"I really don't think any player thinks that way, that the games don't matter and who you might get in the lottery," said Nugent-Hopkins, his team stinging from recent overtime and shootout losses to Columbus and Philadelphia.
"I know I wasn't thinking that. You want to win. It's not fun going out there wanting or expecting to lose — that's not a hockey player mindset. We're all competitive. As a player, you are going out there trying to win every night."
Article content
He scoffs at any notion that players today, on the ice in the heat of the moment, care about who the team drafts next year. Not even when it's Connor Bedard.
When the Oilers were in their doldrums and the light at the end of the tunnel was Connor McDavid, and tanking was their best chance at getting him, they still put together a 5-1-1 stretch in late March that lifted them to 28th out of 30 teams.
"As a really young player it's hard to wrap your mind around (next year)," said Nugent-Hopkins. "All you care about is playing your best so you can keep your place in the league. You never intentionally tank.
"Besides, it's still a lottery; it's not like you're guaranteed anything. Just because you're last in the league doesn't guarantee that you're going to get that player. We won (McDavid) from third last."
Article content
Defenceman Darnell Nurse has also seen some lean years as an Oiler, so he understands the mindsets in Ottawa and Montreal: the playoffs might be a long shot, or a pipe dream, but that doesn't mean you let the other teams have their way with you.
"I've been in positions where we weren't the best team and we were out of it at this point or a little later in the season, but you show up and you want to play," he said.
"It's hard to make it in this league and it's harder to stay. No matter what position you're in you want to win every game or you wouldn't be here."
Jonathan Toews is a three-time Stanley Cup champion, so mucking around at the bottom of the standings is brutal. The Blackhawks are second last in the league, about to jettison their best players and position themselves for the future, but they're still 5-4-1 in their last 10.
Article content
"There haven't been high expectations for us, so you take that personally after a while and you want to write your own story within the locker room," he said during the Hawks' recent stop in Edmonton.
"There was a stretch where we were trying, we were working, everyone was trying to be the solution and we just couldn't get off that skid of however many games in a row (2-20-1 from Nov. 14 to Jan 3). It wasn't a good feeling. One of those things you feel you might never get out of.
"So, when you do get out of it you remind yourself of the way you want to prepare and play every single night."
Like Ottawa is. They were on a four-game win streak when they shut it down for the All-Star and bye week. Like all those teams at the bottom of the barrel, they can't wait for the night that someone takes them lightly.
"That's why we play the game, we're trying to win every game we play, we want to give ourselves a chance to win every night," said Hawks defenceman Seth Jones.
"We shouldn't be any less motivated than any other team to go out and win. No matter what position we're in in the standings, we're playing for pride."
E-mail: rtychkowski@postmedia.com
On Twitter: @Rob_Tychkowski
Source link