The hype and intrigue swirling around quarterbacks Jalen Hurts and Patrick Mahomes in Sunday's Super Bowl is deserved. But the game may well be decided by which quarterback copes with the heat coming at him from the opposition. Both defenses have been great this season. Here's how Hurts and Mahomes may fare against them.
Eagles defensive front v Chiefs offensive line
Roster construction is vital for all Super Bowl teams. Eagles GM Howie Roseman was nothing short of a wizard this past offseason. And despite Dallas Cowboys owner Jerry Jones recently comparing Philadelphia to the Los Angeles Rams of 2022 – a team that "bet it all" for one Super Bowl – the Eagles are built for long-term success.
Yes, Roseman gave up valuable draft picks to acquire AJ Brown. But Brown, with 1,496 receiving yards and 11 touchdowns during the regular season, has proven a steal.
As much as Brown has inspired the offense, linebacker Haason Reddick, signed on day one of free agency, has ignited the defensive front.
Reddick, a Temple alum who grew up just outside Philadelphia and always dreamed of playing for the Eagles, has terrorized opposing quarterbacks this season. His 16 sacks in the regular season make this the third consecutive season Reddick has reached double digits in the category. He's peaked at the right time too, collecting 9.5 sacks since December. Reddick tore through San Francisco's offensive line in the NFC title game, getting two sacks and forcing a fumble on the hit that effectively knocked Brock Purdy out of the game.
Reddick alone is a force, but he is just one cog in a collective of elite pass rushers. Reddick, defensive ends Josh Sweat and Brandon Graham, along with tackle Javon Hargrave form the first quartet in NFL history to each amass double-digit sacks on the same team. This group pounces with coordinated attacks, wins one-on-one battles and is scarily explosive.
Roseman fortified the interior as well, signing free-agent linebackers Kyzir White and TJ Edwards, who have been off-the-ball rocks. He also signed veteran tackles Linval Joseph and Ndamukong Suh during the season, adding to the team's already impressive depth. All told, Eagles defensive coordinator Jonathan Gannon has a litany of talent with which to throw multiple looks while rotating between four- and five-man fronts.
But if there's any quarterback in the NFL that would stand on a mountaintop and scream: "Bring me your five-man blitzes!", it's the mercurial Mahomes, who can find receivers even when under severe pressure. There is no magical formula for stopping Mahomes, who can release the ball with precision from any angle in a nanosecond. But the Eagles have as strong an arsenal as Mahomes will face this season.
Roseman's best work has been shoring up his secondary, which has thrived in Gannon's system. In 2020 the Eagles were somehow able to give away just a third- and fifth-round pick for five-time Pro Bowl cornerback Darius Slay, who is still fueled by the disrespect he was shown by Matt Patricia at the Detroit Lions. Roseman also traded for productive safety CJ Gardner-Johnson. Perhaps the greatest steal of all was Roseman's patience in waiting for the New York Giants to cut James Bradberry before snatching him up. Bradberry is having a career year and was named a second-team All Pro.
There is enough talent throughout the Eagles defense to scare the bejesus out of Chiefs fans. But the Kansas City offensive line is much stronger than the one that was harried by the Tampa Bay Buccaneers during the Chiefs' loss in Super Bowl LV. Four-time Pro Bowl left tackle Orlando Brown Jr will be a challenge for Sweat, and the Chiefs have a strong interior line with guards Joe Thuney and Trey Smith, plus center Creed Humphrey. The one glaring concern is Reddick lining up opposite one-time undrafted free agent Andrew Wylie.
Despite all the talent up and down the Eagles defense, one recent opponent was left unimpressed.
"I don't know fully about [Philly's] defense," said 49ers wideout Brandon Aiyuk. "They talk about them being a good defense. I'm not sure. I think … this Kansas City pass game will expose what we thought we would be able to expose before some unfortunate circumstances happened, so we'll see. But like I said, you got to get lucky to win the Super Bowl, and they got extremely lucky,"
Aiyuk's comment reeks of bitterness and "lucky" isn't quite the right word. But it is undeniable that the Eagles have had one of the softest schedules in the league this season. The toughest recent matchup was the Eagles' Christmas Eve loss to the Cowboys, when Dak Prescott became the only quarterback to put up 300 passing yards on the Eagles this season. Kansas City and Mahomes will be a much tougher test.
Chiefs defensive front v Eagles offensive line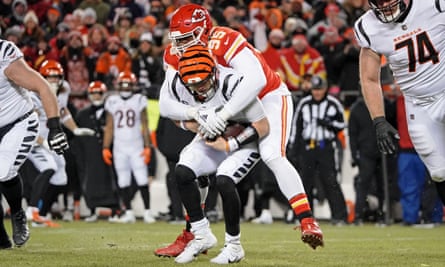 The Chiefs have nowhere near the depth of the Eagles defense, but they have the best overall defensive player in Chris Jones. Jones was the MVP of the AFC championship game, a one-man wrecking ball who dominated every matchup thrown his way.
Defensive coordinator Steve Spagnuolo loves moving the versatile tackle around: Jones can handle double teams inside (no interior lineman was double-teamed more this season) or do his thing on the edge. Jones left Joe Burrow and the Bengals line in shambles with his two sacks, four quarterback hits and three tackles for loss in the AFC title game.
Frank Clark, who pairs with Jones to form a terrifying pass rush duo, is overjoyed for Jones's success.
"Hats off to him," said Clark. "He's having fun and injury free. You watch a lot of times in the past and he wasn't having fun. My boy's out there being dominant."
Vital to Jones' success this season, unlike previous years, is having a strong supporting cast. And it allows Spagnuolo to experiment. Jones mostly lines up on the defensive right which would pit him against Landon Dickerson, who hyperextended his elbow in the NFC Championship. But it's possible Jones will play some on the left side and test out the excellent Lane Johnson, who has injury concerns of his own.
Jones will need plenty of assistance against the best offensive line he's probably ever faced. Perhaps defensive end Carlos Dunlap can keep up his pass-batting ways – he tied for most passed defended this season with eight (his teammate, lineman George Karlaftis, had the second most with seven).
Down the field, leader of the secondary L'Jarius Sneed has cleared concussion protocol and will be key to stopping big plays to DeVonta Smith and Brown. The Chiefs' rookie defensive backs Trent McDuffie, Joshua Williams, Bryan Cook and Jaylen Watson have added depth. While they were up and down at times over the season, they stepped up in the AFC Championship in Sneed's absence.
But this Super Bowl will be decided up front. In the AFC title game, the Chiefs shone – but that was against the Bengals' patchwork offensive line. This Eagles group is on another level, inside and out, even when gimpy.
In two games – against Dallas and the NFC Championship against San Francisco – the Eagles' offensive line largely contained Micah Parsons and Nick Bosa, two of the few defenders in the NFL who may be better than Jones. Neither had a sack in those games.
The trenches are the heart of NFL football and given the various matchups in this Super Bowl, our hearts should be dancing on Sunday.