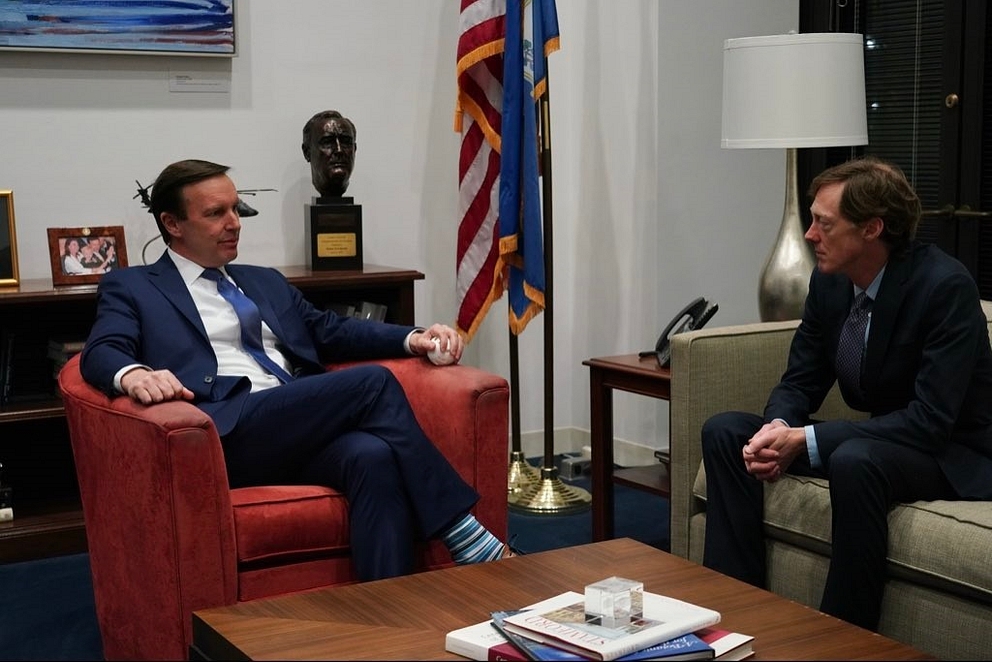 From inside the walls of the nation's Capitol, Mayor Justin Elicker heard firsthand Republican lawmakers shouting at President Biden as he delivered his State of the Union address.
"I was not surprised. But I was disappointed," the mayor said. ​"It was clear in the room that the partisanship was such that it will be difficult to get significant meaningful legislation passed" with Republicans in control of the U.S. House of Representatives this session.
That was one of the mayor's takeaways from his night in Washington D.C. Tuesday as U.S. Sen. Chris Murphy's guest for Biden's State of the Union Address.
Elicker joined Murphy at the nation's Capitol as Biden addressed a full house of national legislators and their guests, one day after New Haven's mayor gave his own annual state of the city speech to a full house of local leaders and lawmakers at City Hall. (Elicker wasn't the only New Havener in the D.C. room Tuesday night. The city's longtime U.S. House representative, Rosa DeLauro, picked local affordable childcare nonprofit leader Allyx Schiavone to be her guest for the president's annual address.)
A two-term mayor currently seeking the Democratic nomination for another two years in local office, Elicker spoke with the Independent about his visit to the nation's Capitol as he took the train back from D.C. to New Haven Tuesday morning. 
"I'm honored to have been invited by Senator Murphy. He's been a very good partner to New Haven," Elicker said. He praised Murphy's advocacy for suporting a surge in federal-to-state-to-local aid through bills like the American Rescue Plan Act (ARPA) and the Inflation Reduction Act, as well as for taking a lead on ​"common sense gun legislation." Asked for his thoughts on Biden's speech itself, Elicker offered similar praise for the president for supporting large government aid bill and gun control legislation during his first two years in office. 
"To me as mayor, looking back on what Biden has been able to accomplish in the last several years, we've seen the positive impact of it firsthand," Elicker said.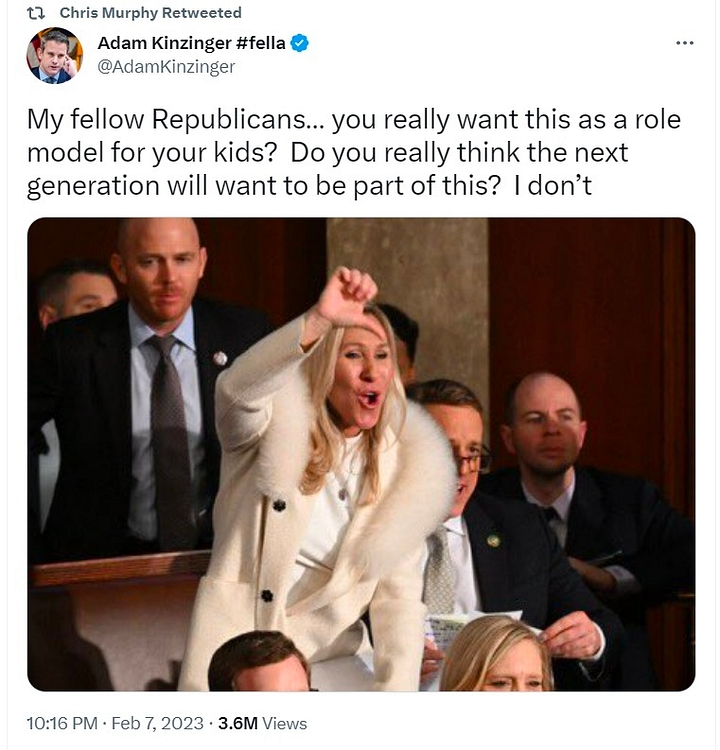 The mayor also said he heard Republicans like Georgia U.S. Rep. Marjorie Taylor Greene shouting ​"Liar!" back at the president as he gave his speech.
"People disrespect each other in a way that prevents us from having common-sense logical conversations about how to address our challenges," Elicker said with dismay when asked about what went through his head as he heard those lawmakers shouting at the president.
One of the best parts of making the trip to D.C. to attend the State of the Union, Elicker said, was getting to meet other lawmakers and governors and guests from across the country to talk about challenges their communities face and common solutions that New Haven could consider. He said one of the more memorable conversations he had Tuesday night was with Maryland's governor and two U.S. senators about how best to support ​"violence intervention programs" in confronting gun violence.
Overall, Elicker said, attending the State of the Union in D.C. for the first time Tuesday night reminded him of the relationship-building benefits of gathering so many influential policymakers in one room for one event.
"It's the one time of the year when nearly every decision maker in Washington is in the same room," he said. ​"Building relationships" with political counterparts in other areas of the country ​"is a good thing" and can only help New Haven as it confronts challenges closer to home.
Sign up for our morning newsletter
Don't want to miss a single Independent article? Sign up for our daily email newsletter! Click here for more info.