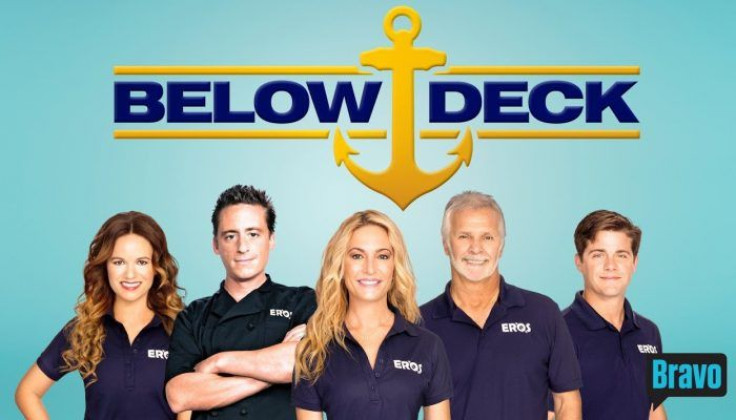 KEY POINTS
Captain Sandy Yawn overheard crew members talking about her favoritism in the new "Below Deck" episode
Sandy called out chief stew Fraser Olender and shut him down after he tried to defend his team
Fraser said he was "shocked" by what Sandy did and had never felt as "sickened" by a captain in his entire life
The tension continues to escalate in "Below Deck" Season 10.
Chief stew Fraser Olender felt "sickened" by Captain Sandy Yawn following a tense conversation that was captured by Bravo cameras.
On Monday's episode of the reality series, Sandy, 57, overheard the interior team discussing her favoritism for the deck crew. The captain then called out Fraser and seemingly questioned his leadership in front of his co-workers.
"There's, like, three of you standing around. The deck crew is doing all this work for the interior. It's not fair to them. Here's the thing, there's three of you and the deck crew are busting their ass, like, taking all the garbage out for you guys constantly," the captain told the chief stew, Alissa Humber and Tyler Walker, Us Weekly reported. "Fraser, now's not the time to talk to me. Stop talking."
Fraser attempted to defend his team, but his boss immediately shut him down.
"Pure rage. I've never been in a fight and said, 'It's not the right time to speak to me,'" the chief stew told the cameras as he stepped back from Sandy. "I've never felt so sickened by a captain in my entire life. I'm in actual shock."
Ahead of the latest episode, Fraser spoke with Us Weekly and admitted that despite struggling to see eye to eye with Captain Lee's replacement, Sandy had taught him something about himself.
"But equally, she taught me a lot about myself and I think at the end of the season [you'll] understand what I mean by that," he explained in January. "She really opened my eyes to things I previously wouldn't have dealt with so well — without her making sure I did."
The England native noted that his original boss Captain Lee, who took a temporary leave in December 2022 due to health issues, and Captain Sandy have "very different management styles."
"I knew Captain Lee and I knew how he worked. I knew how he liked things to be run. He also trusted me and he gave me the confidence to be creative and enjoy my take on [it]," Fraser said.
The two captains appeared to clash recently over Sandy's firing of stew Camille Lamb.
Lee clarified on Twitter that he had no problem with the firing itself but that he didn't like the fact that he only learned about it after Sandy had sent the stew packing.
"Then why contact me after and tell me at all? Plenty of time to call me after, but not before. She made the right call. But lacked in procedure and respect. Just the way I roll," he wrote via Twitter.
He added, "Had I been replacing [Captain] Sandy on her boat temporarily and felt the necessity to fire one of her crew, I would have called her first to let her know what I was doing and why. I agree with her decision, just not how she went about it."