French beauty brand selects B.C. grasslands as a beneficiary of conservation efforts.
Reviews and recommendations are unbiased and products are independently selected. Postmedia may earn an affiliate commission from purchases made through links on this page.
Article content
The White Lake Basin is an area of B.C. that's rich in biodiversity.
Article content
Situated in the district of Okanagan-Similkameen, in the southern Okanagan Valley, the protected area is a "hot spot" for endangered and at-risk species in the province, according to Jasper Lament, CEO of The Nature Trust of B.C.
Article content
It's home to a diverse array of plants and animals — including 27 plant and 57 animal species at risk — such as the American Badger, Western Tiger Salamander, Pallid Bat, Western Rattlesnake, Nuttall's Cottontail and the Lewis's Woodpecker.
"People would be surprised to learn just how integral these grasslands are to the ecological health of our province," Lament says of the area. "Approximately 95 per cent of the South Okanagan Grasslands contains sensitive ecosystems, such as sagebrush steppe, riparian and broadleaf woodlands."
Article content
Grasslands, Lament says, account for less than one per cent of the province's land base yet provide more than 30 per cent of the habitat and breeding grounds for its most "sensitive" species.
"The grasslands are incredibly rich with a flourishing network of ecosystems and diverse plants and animals," Lament explains. "Grasslands act as carbon sinks while also providing sanctuary for wildlife to thrive. Land conservation is directly entwined with combating climate change and we cannot achieve our climate goals without it."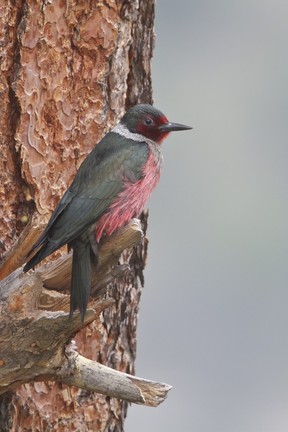 In addition to being surprisingly biodiverse, the about 65.1-hectare area, Lament says, is also incredibly beautiful.
"The grasslands, streams and ponderosa pine stands are such a contrast to what people normally think of when they think of British Columbia," Lament says. "And they have been at risk of being lost for a long time."
Article content
Environmentalist concerns surrounding the area centre on climate change, biodiversity loss and overdevelopment.
The area's plight — along with its significance to the broader B.C. ecosystem — helped to make it the prime target for the conservation efforts of the Canadian launch of the Rewild our Earth initiative.
Spearheaded by the French brand YSL Beauty, the initiative sees the global beauty brand partner with the non-governmental organization Re:wild to select and support grassroots organizations such as The Nature Trust of B.C. with their conservation efforts around the world.
"We are very partner-led, so we're kind of a hub for all of these biodiversity projects and often serve as a connector between people who want to support this and fund it, and we help them to find the right partner and identify the most places in the world for biodiversity," Carrie Hutchison, director of brand marketing for Re:wild, explains of the role the group plays with its 84-plus global partners.
Article content
Hutchison says that when the YSL Beauty team, led by Caroline Nègre, the brand's international sustainability and scientific director, approached Re:wild last year with the goal of furthering the beauty company's biodiversity and sustainability goals, she found it to be an easy 'yes'.
"Caroline came to us in late 2021, and we were just really impressed with their grasp of biodiversity and its importance. They had done their homework. It was just a really strong partnership from the start," Hutchison recalls. "They were looking for a scientific partner laser-focused on biodiversity with a global reach.
"At Re:wild, we don't see the wild as something that is to be pitied or rescued, rather we see it as the solution to so many of the problems that we face right now."
Article content
The goal of the collaboration is to restore 100,000 hectares of land by 2030, according to Nègre.
"This initiative was launched in April of last year. It is an environmental initiative to protect and preserve the wild," Nègre, speaking by virtual call from a L'Oreal lab near Paris, explains. "It's really the evolution of one program that we started 10 years ago in Morocco in the Ourika Valley. This program is called the Ourika Community Gardens. It's a garden where we grow ingredients with the support of, and where we support also, a co-operative community of women."
The starting place of the environmental initiative ties back to YSL founder Yves Saint Laurent.
"Mr. Saint Laurent really fell in love with the cities of Morocco," Nègre explains. "He had a second home there, where he would go to rest and find new creative ideas."
Article content
The company expanded its environmental ambitions in 2017 beyond just ingredient sourcing targets to focus on "re-wilding the environment," according to Nègre. From there, the brand has built-out its biodiversity initiatives in areas such as Madagascar, Indonesia and Haiti, which also serve as "key" ingredient-sourcing countries.
The Canadian target, Nègre says, is part of the program's effort to bring the environmental focus into the backyards of consumers, in the hopes that it will help them become more aware of — and involved in — planet-saving programs.
"In our mission to protect more lands, also what we observed is there is a strong need for people to be engaged. So, having a program that is close to their home, close to their heart, gives more visibility to the re-wilding program," Nègre says. "We can educate, we can inform and we can engage more and more people in this re-wilding story."
Article content
The White Lake Basin conservation efforts mark the first time The Nature Trust of B.C. has collaborated with a beauty brand, according to Lament. The conservation organization's role in the partnership is to oversee and complete the preservation and restoration of 65 hectares of grasslands in the South Okanagan.
"We have the boots-on-the-ground and the knowledge that is needed to protect this property for generations to come," Lament says. "As an organization, we have been working on protecting the Interior grasslands of British Columbia since the 1980s, over time we have built large complexes of conservation land to protect the many at-risk species that live there."
As the White Lake Basin is found within the traditional territories of two Indigenous communities including the Penticton Indian Band and the Lower Similkameen Indian Band, Lament says the team consulted with community members on the project.
Article content
"As these grasslands are an important cultural and historical site and a rich source of food and medicine, it was paramount that this project involved the invaluable help of traditional ecological knowledge-keepers from the En'owkin Centre — an Okanagan Nation education and cultural centre, to ensure that these traditions are protected and cherished in perpetuity," Lament says.
The Nature Trust of B.C. team's efforts in the area will focus on four key areas: documenting and monitoring at-risk and endangered species in the White Lake Basin; restoring and enhancing wildlife habitat; controlling invasive plant species in the area; and developing and implementing plans that will mitigate wildfire threats.
Article content
And, according to Lament, the emphasis on the B.C. grasslands couldn't be more perfectly timed.
"Grasslands were identified by the UN Decade on Ecosystem Restoration as a critical ecosystem and are among the most endangered in the world," Lament says. "If we can revitalize and future-proof this vital land, we can make a profound impact on adjacent properties and the environmental health of our planet."
More news, fewer ads: Our in-depth journalism is possible thanks to the support of our subscribers. For just $3.50 per week, you can get unlimited, ad-lite access to The Vancouver Sun, The Province, National Post and 13 other Canadian news sites. Support us by subscribing today: The Vancouver Sun | The Province.
Source link