Facing a Republican-controlled House, a looming partisan budget battle and a swarm of GOP-led investigations, Joe Biden's 2023 State of the Union address looks to be a tightrope walk. Political and ideological tension in a divided Congress has reached a level not seen in many decades — but if White House briefings are any indication, Biden's determined to waltz right over them with an optimistic grin on his dad-visage.
Biden has only just begun his awkward courtship with House Speaker Kevin McCarthy, following the latter's week-long torment at the hands of his own party's radicals — but the two are still at the delicate "you show me yours, I'll show you mine" phase of budget talks. Meanwhile, 20 GOP attorneys general are threatening pharmacists who distribute abortion pills under new FDA approvals. And Democrats are mounting a ferocious defense of Rep. Ilhan Omar, D-Minn., the "Squad" member who was booted from the House Foreign Affairs Committee on a party-line vote. And that's not to mention the House Oversight Committee's investigative insurgency, targeting the Justice Department's open case files and the president's own son. 
Of course we don't know exactly what Biden will say, or how the speech will go over in the chamber. There's still time for Biden's speech to change dramatically. With a Republican response — to be delivered by newly-elected Arkansas Gov. Sarah Huckabee Sanders, formerly Donald Trump's White House press secretary — expected to hammer him on inflation, can a bit of Biden soft-talk diffuse a debt ceiling showdown? Can he tease high-profile executive action on policing and gun reform without triggering reactionaries on the right? Will another rookie lawmaker's outbursts elicit chamber-wide groans? 
Here's everything we know so far — and our best guess at the rest — about the president's upcoming speech.
What will Biden talk about?
SOTU addresses are generally a president's best shot at party pace-setting in the first weeks of a congressional session — a forum for economic bragging and budget begging, where White House agenda priorities come into focus. Biden is expected to announce some top-line administrative policy changes and do some legislative wishcasting, thereby setting the stage for his likely re-election campaign in 2024. (Don't expect him to announce that decision quite yet.)  
Policing and gun control
Police reform and gun control efforts are both stuck in the legislative mud, both nationally and in the statehouses. Biden is facing renewed calls from key Democratic groups to wield executive action on the two issues, where partisan gridlock and gun-lobby dollars have otherwise crippled progress.  
With the nation still traumatized by the death of Tyre Nichols at the hands of a Memphis police unit last month, Nichols' parents will attend the State of the Union as guests of Rep. Steven Horsford, D-Nev., who chairs the Congressional Black Caucus. According to Politico, the CBC wants Biden to address police reform directly in his speech.  
"They want action," Horsford said of his conversations with the Nichols family. "The action is legislative action; that's here in Congress and at the state and local level, they want executive actions that still can be taken by the president and his administration."
Meanwhile, a coalition of 117 gun safety groups have called on Biden to make good on last year's historic gun reform passage, with real-world implementation announcements. In its Jan. 31 letter to the White House, the Time is Now Coalition asked Biden to enforce the new assault-weapon import ban, boost FTC regulation on gun ads aimed at minors, and appoint a gun czar. The coalition also wants the president to ask Congress for $5 billion in violence prevention funding. 
But in a Jan. 24 briefing, White House press secretary Karine Jean-Pierre basically punted the gun issue to Congress, in an almost explicit acknowledgment that major progress is now unlikely. The president "is going to continue to see what other executive actions can be taken from here," Jean-Pierre said. "But at the end of the day, we need Congress to act. We need legislation that can be signed into law."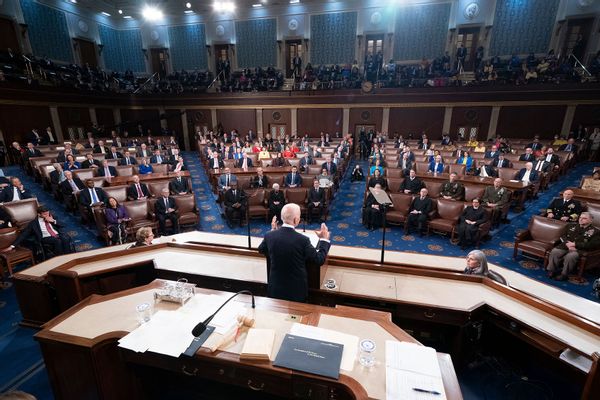 U.S. President Joe Biden delivers the State of the Union address before a joint session of Congress in the U.S. Capitol House Chamber on March 1, 2022 in Washington, DC. (Shawn Thew – Pool/Getty Images)
Keep the aid flowing to Ukraine
At some point this year, Biden will ask Congress to continue funding US aid to Ukraine, as it maintains its ongoing defense against Russian attacks. Ukraine was front and center in Biden's speech last year, and his pledge to continue support for the war effort this year will need to overcome waning Republican support.  
The debt-ceiling showdown 
A vague post from the White House earlier this month dropped one important hint: Biden's likely to try using the presidential bully pulpit to defuse impending budget brinkmanship.
"He looks forward to speaking with Republicans, Democrats, and the country about how we can work together to continue building an economy that works from the bottom up and the middle out," the White House said in a Jan. 13 release. 
Biden's SOTU comes fast on the heels of his meeting with McCarthy last Wednesday, where the two began talks aimed at staving off a potentially disastrous showdown over raising the debt ceiling. Treasury Secretary Janet Yellen's Jan. 19 warning that the U.S. had hit its $31.3 trillion borrowing cap was expected, but GOP hardliners in the House are demanding budget cuts before raising that cap. To be clear, the debt ceiling isn't some constitutional requirement. . It's an artificially imposed limit, and since the 1960s lawmakers have raised that limit about 80 times.
With the announcement that Gov. Sanders would deliver the GOP response from Little Rock,  the top two Republicans in Congress — McCarthy and Senate Minority Leader Mitch McConnell — signaled key phrases we're likely to hear from her: inflation, surging crime, border crisis, failing schools. 
When is the State of the Union address? 
Biden will address both chambers of Congress in a joint session on Feb. 7, beginning at 9 p.m. ET in the House chamber. McCarthy will gavel in the session and join Biden and Vice President Kamala Harris, in her capacity as Senate president, on the House dais. 
SOTU speeches usually last about an hour, although presidential winds have trended longer. Former President Bill Clinton holds the records for both the longest and second-longest recorded addresses, in 2000 (one hour, 29 minutes) and 1995 (1:25) respectively, according to UC Santa Barbara research. Richard Nixon went the other direction in 1972, wrapping it all up in just 28 minutes. Recording technology was unavailable for George Washington's 1790 address, but its text ran just 1,089 words — shorter than this article. 
How to watch
Essentially every TV news network will broadcast the address live, including ABC, CBS, NBC, CNN, MSNBC and Fox News. CNN viewers won't need a login to watch. All those networks will also stream the speech on their websites and through the apps available on Roku, FireTV, Android TV, Apple TV and similar devices or streaming services. 
Easiest of all, though, is the White House YouTube channel, with ASL interpretation available. Keep an eye on the White House Facebook and Twitter accounts for a fresh link on the day of the speech. 
Read more
about Joe Biden's presidency