The Oilers travel to face the Detroit Red Wings on Tuesday for the first of a four game road trip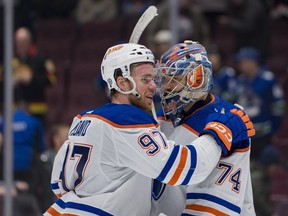 Article content
The Edmonton Oilers have been presented with a massive window of opportunity coming out of an extended layoff.
Article content
The Oilers reconvened for practice Sunday afternoon following their bye week, which led into the NHL all-star break. They travel to face the Detroit Red Wings on Tuesday in the first of a four-game road trip.
They also face the Philadelphia Flyers on Thursday, Ottawa Senators on Saturday and Montreal Canadiens on Sunday. All four teams are currently out of a playoff spot.
"We're going into a situation where other teams are in the same position, so it's about whoever can find their game the quickest," Oilers defenceman Darnell Nurse said on Sunday. "Today, was a good work day and tomorrow we have to do the same things and then we worry about the game when it comes up."
The Oilers were 7-1-1 going into the break, having defeated the Chicago Blackhawks 7-3 on Jan. 28.
Article content
It was a good way for the Oilers to head into the break, particularly since they had a chance to give emergency backup goalie, Matt Berlin, a chance to live out his NHL dream.
Berlin, who plays at the University of Alberta, was called in to dress as a backup when Stuart Skinner fell ill. At the urging of captain Connor McDavid, head coach Jay Woodcroft put Berlin into the game with two and-a-half minutes to play. He stopped the only shot he faced in the contest.
"I played with him in Spokane," said Oilers forward Kailer Yamamoto. "I wasn't on my phone too much that day and I didn't even know he was going to dress.
"I knew Stu was sick, but I thought he was going to be there for game time. Then I showed up and they were kind of showing him (Berlin) around and I thought it was really cool he was able to come up, and get into a game. He was a really good friend in Spokane and a really good guy, so I was excited for him."
Article content
For the Oilers it was a great way to head into a week-long layoff. As McDavid explained, the move was not meant to disrespect the Blackhawks, but instead to give a player a lifelong memory. Berlin played in the WHL before joining the Golden Bears.
"At first they told him he was going in with three minutes left and the play kept going on and there were no whistles, so I wasn't sure if he was going to get in," Yamamoto said. "And then he got in and were still dominating, so we weren't sure if he was going to get a shot, and I was like, 'boys at least let him get a shot.' It was definitely exciting; it was nice to see him get in."
Now it's back to business for the Oilers, who are looking to solidify a playoff spot with 32 games to go.
They are currently holding the first wild-card spot in the Western Conference, but are just three points behind the Seattle Kraken and Los Angeles Kings for the Pacific Division lead. The Vegas Golden Knights are two points up on the Oilers, currently third in the division.
Article content
A strong push coming out of the Christmas break has the Oilers working their way up the standings.
"Even when our season was going up and down, we all had a really strong belief in our group," Nurse said. "There wasn't any panic and I think we started to focus on a day at-a-time, put our heads down and got to work and did not focus on the future.
"I think it's easy to look months ahead after you've had a little bit of success and you're looking towards April (playoffs) instead of worrying about the day at hand and the game at hand. That's what our focus has been since Christmas, we've really dug into that, found some success and now it has to continue."
Perhaps it's good the Oilers are not looking too far ahead, because they would see a pretty soft road ahead with only four games against playoff teams this month. The Oilers have both the Red Wings and Flyers twice, the Senators, Canadiens and Columbus Blue Jackets among their 11 games in February.
Article content
Even though the Oilers should not take any opponent lightly, it's not exactly murders' row in February.
"I think you see it every night in this league, that any team can win in any given game," Nurse said. "That comes with the parity in the league. That comes with us not focusing so much down the road, as opposed to taking it a game at a time. Every team you play against in this league, every given night, they can win."
Nurse is correct, but it is also important to take advantage of opportunity when it comes knocking. The Oilers are far more talented than the four teams they'll be facing on the upcoming road trip, and its a great chance for them to get back into one of the top-three spots in the division.
The Oilers are 15-7-1 on the road this season, much better than they've been at home.
"I couldn't pin down what it is, but I think it's a couple of years now that we've been a good road team," Nurse said. "We seem to find some comfort going into other buildings and being the bad guy. For us that has to continue.
"To have success in this league, you have to be good both at home and on the road and the success on the road has to continue."
Email: dvandiest@postmedia.com
On Twitter: @DerekVanDiest
Source link