"It is becoming increasingly clear that further action will need to be taken," said Alberta's justice minister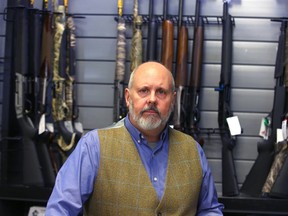 Article content
Alberta's gun-owning community is applauding the federal government's decision to roll back proposed gun control legislation amendment's but say more needs to be done, including scrapping Bill C-21.
Article content
JR Cox, President and CEO of The Shooting Edge, said the proposed amendments being withdrawn Friday makes him "quite happy," saying it shows grassroots movements remain an important part of Canada's democracy after multiple groups — including First Nations and hunting advocates — voiced their opposition to the Liberal's last-minute proposal to add a number of semi-automatic rifles and shotguns to a list of prohibited firearms in the country.
Article content
"I'm really happy about that. It shows that there is hope for some critical thinking in this country," said Cox.
Liberals 'regret the confusion' amendments caused
The amendment introduced a new definition of an "assault-style" gun that includes semi-automatic rifles and shotguns with a capacity of more than five cartridges. On Friday, Vancouver Liberal MP Taleeb Noormohamed asked for and received unanimous consent to withdraw the amendment to Bill C-21 at the House of Commons public safety committee Friday morning.
Article content
The amendment had caused an outcry from hunters saying it would ban many firearms used to legally hunt while the Liberals also found themselves under pressure from MPs within their caucus to change or withdraw what was being proposed.
Public Safety Minister Marco Mendicino said in a written statement posted to Twitter that the government has committed to coming up with "a clear, standard definition of what constitutes an assault-style firearm."
"We hear those concerns loud and clear, regret the confusion that this process has caused and are committed to a thoughtful and respectful conversation that is based on facts, not fear," he said.
He said a new solution to ban assault-style weapons is underway.
Shandro, gun owners say focus needs to shift away from bans
Article content
Alberta's Justice Minister Tyler Shandro issued a statement Friday afternoon saying firearm owners across the country breathed a sigh of relief Friday. However, he expressed concerns saying Mendicino's statement signaled the federal government would continue to try to ban rifles and shotguns.
"In September, Alberta announced it would challenge federal plans to conscript the RCMP to implement the firearms confiscation program," said Shandro. "It is becoming increasingly clear that further action will need to be taken to respond to the federal government's hostility towards hunters, farmers, sport shooters and Indigenous Peoples."
Cox shared that relief, noting gun manufacturing is a viable industry in Canada, however, he said the full Bill C-21 needs to be removed and called on the Liberals to place more focus on stopping the illegal gun trade in Canada if it wants to address rising gun crimes across the nation.
Article content
In May 2020, the Liberal government banned 1,500 models and variants of firearms, including the AR-15 and Ruger Mini-14, through an order-in-council on the grounds they have no place in hunting or sport shooting.
"All the professionals and experts who testified in front of the Standing Committee said this is misdirected legislation," said Cox. "If you're looking at this from an Alberta perspective, there are over a quarter million handgun owners in Alberta. So if there was actually a problem with legitimate legal handgun owners, we would all know about it."
James Bachynsky, co-owner of the Calgary Shooting Centre, shared Cox's sentiment saying Bill C-21 is poorly written and does nothing to address public safety or rising gun crimes. He said around 80 per cent of handguns that are used illegaly and seized are traced back to being smuggled across the border.
"It's directed at legal owners, not criminals, who would actually be misusing the firearms," said Bachynsky. "The government went out of its way to penalize and attack the legal gun owners, because (the bill) has the effect of reducing the value of their property to zero."
Bachynsky said there needs to be stronger punishments for people who are caught using or in possession of firearms illegally.
— With files from The Canadian Press
Source link