It was around this time last season the Oilers were able to turn their season around after the acquisition of forward Evander Kane and the replacement of Dave Tippett as head coach with Jay Woodcroft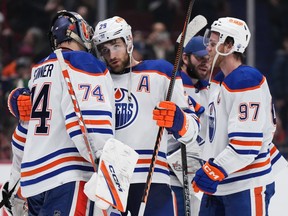 Article content
The Edmonton Oilers are hoping history repeats itself, to an extent, once they return form the bye week and NHL All-Star break.
Article content
It was around this time last season the Oilers were able to turn their fortunes around after the acquisition of forward Evander Kane and the replacement of Dave Tippett as head coach with Jay Woodcroft.
The Oilers went on a run starting in February, which had them finishing second in the Pacific Division standings and set the stage for a lengthy playoff run.
"I think we're building something here for sure, we're starting to play more like we want to for a consistent 60 minutes," said Oilers forward Ryan Nugent-Hopkins prior to the break. "Now, we have a little break to recharge the mind and body, but we have to remember this feeling to take it into the break."
The Oilers will return on Feb. 7, travelling to face the Detroit Red Wings in the first of a four-game road trip. The Oilers will also face the Philadelphia Flyers, Ottawa Senators and Montreal Canadiens before returning home to host the Red Wings on Feb. 15.
Article content
A year ago, Kane played his first game with the Oilers on Jan. 29, and Woodcroft came on board on Feb. 10. The Oilers went on a 26-9-3 run with Woodcroft to solidify a playoff spot and then defeated the Los Angeles Kings and Calgary Flames in the first two rounds before losing to the Colorado Avalanche in the Western Conference Final.
"Every year is different, but at the same time, it was a similar time frame," Nugent-Hopkins said. "We battled through some things last year and we've done that this year as well.
"We had a lot of games this year where we were up and we kind of let teams back into it — we started to lose a few close ones and we kind of talked among our group and wanted to change some things and I think we've done a lot better job of that lately."
Article content
Returning to play four teams who are out of the playoff race should help the Oilers gain some traction returning from the break. The Red Wings, Flyers, Senators and Canadiens are all at different stages of a rebuild.
Of the 11 games the Oilers play in February, four are against playoff contenders, giving them an opportunity to continue the 7-0-1 run they put together heading into the break.
"I think every team in the NHL can beat any other team in the NHL and I think we're seeing that," said Woodcroft. "We dropped a point to Columbus in overtime — they're not a first-place team, but they played us hard. These are teams who have people that can hurt you. Chicago played us hard, and they can hurt you. I think they were 7-3 heading into the game against us (Saturday).
Article content
"There are no gimme puts in the National Hockey League, you have to bring it on a daily basis, and the only thing that we can control is taking care of the business of the day. We don't control the schedule, we don't control who the opponent is and where the game is played. We can only control our level of effort and execution and I think our guys have done a good job of that."
Through the previous three weeks, the Oilers have taken care of business, with the exception of the overtime loss at home to the Columbus Blue Jackets. The Oilers had struggled with consistency up to that point, but managed to find their game internally.
"I think it was our attention to detail defensively, and I think our goaltending has been excellent," Woodcroft said. "Jack (Campbell) should feel really good about his game. And, I think our penalty kill has been very good.
Article content
"Ultimately it comes down to the execution level of our players and wanting to play the game the right way. We feel that we were scoring enough goals to win, we just had to take care of the other side of the puck. I don't think we're there yet, but we're making strides and we're starting to get healthy again."
After struggling early on in the season and losing his starting job to rookie Stuart Skinner, Campbell seems to have found his game again. Skinner, meanwhile, has been a rock all season and was rewarded by being named to his first NHL All-Star weekend, where he will join Connor McDavid and Leon Draisaitl.
The Oilers have been getting solid contributions throughout the lineup lately. Nugent-Hopkins and Zach Hyman are also having career years and could have easily been named All-Stars as well.
"Personally, I'm just trying to play my game as much as possible," Nugent-Hopkins said. "I want to keep getting better here and I'm just trying to do what I can to help out the team.
"We've been playing well of late. We haven't given in to other teams' push too much, we're kind of pushing back. Every team is going to push and you have to find a way to battle through adversity and not make it too easy for them and I think we've done a better job of that and have to keep it going after the break."
Email: dvandiest@postmedia.com
On Twitter: @DerekVanDiest
Source link