A fired social media manager in New Jersey went rogue after his former employer forgot to remove his access to the nonprofit's TikTok account. 
Instead of continuing to promote local businesses, the former social media drastically changed tone and began trashing his old bosses and dragging the small town's attractions, NJ.com reported.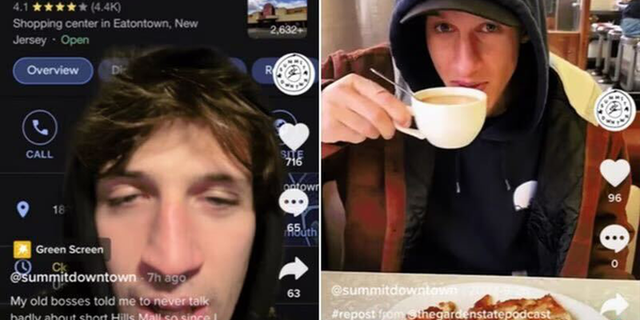 Graham Colligan, kept posting on the official account for Downtown Summit, a nonprofit that represents and promotes businesses in the town, even after he was terminated from the position. 
"Summit NJ fired me as their social media manager, but I'm still logged into their TikTok account lm*o," Colligan wrote in the caption of one video.
NEW JERSEY POLICE SEARCHING FOR MAN WHO THREW MOLOTOV COCKTAIL AT SYNAGOGUE
In another video, Graham stated, "time to start some N.J. drama."
In a series of videos, Colligan railed on his former employer, blasting local businesses, and slamming the cost of living in the quaint New Jersey town. 
Colligan alleged that his former bosses forbade him of talking poorly about the local Mall at Sort Hills, which he dubbed a "mega capitalist corporate America type sh*t. Like, cookie-cutter stealing away from, like, small businesses," according to NJ.com.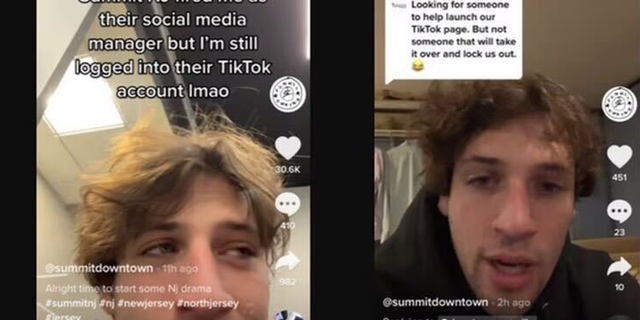 The former social media manager also called out the home prices in Summit, stating that he only made $23 an hour and worked 10 to 15 hours a week in his part-time Summit Downtown job.
A TikTok account for the Downtown Naperville Alliance of Naperville, Illinois, replied to his TikTok video, according to NJ.com. 
"Looking for someone to help launch our TikTok page," Downtown Naperville Alliance wrote. "But not someone that will take it over and lock us out."
CAREER CRISIS HITS HOME: HOW TO SUPPORT YOUR SPOUSE AFTER A TRAUMATIC JOB LOSS
Colligan reportedly also locked out others from accessing the account, which had amassed 1,375 followers, according to NJ.com. After the debacle, Summit Downtown deleted its entire TikTok account.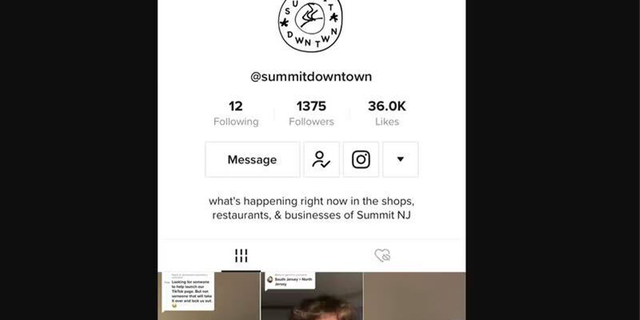 Colligan's LinkedIn account states that the social media manager is "Open to work," after his public departure from Summit N.J. 
CLICK HERE TO GET THE FOX NEWS APP 
Colligan and Summit, New Jersey did not immediately respond to Fox News Digital's request for comment.
Source link